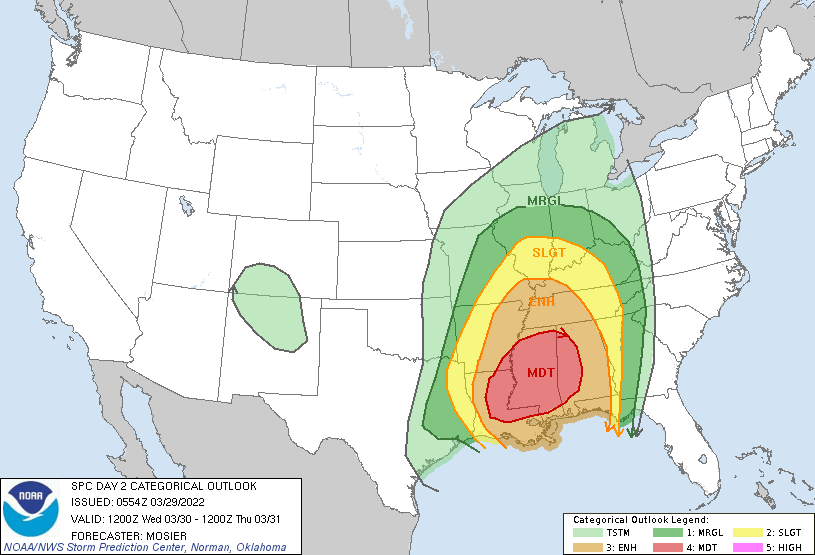 MyRadar
News
—
An Active March: Texas & Deep South Hot-Zones
3/29/2022
Sixty-five thousand, that is the average number of miles I drive each year in pursuit of the extreme's of mother nature: tornadoes, hurricanes, blizzards and more.

As we near the end of March, I found myself deep in central Texas on March 21. Deep into Texas, but familiar ground for me, as I lived in Austin, Texas for 15 years prior to 2018. Monday, March 21, 2022 was a significant severe weather day, with the forecast calling for supercells to initiate on a dryline to the west of Austin. This included a Moderate Risk with 15% hatched tornado risk area.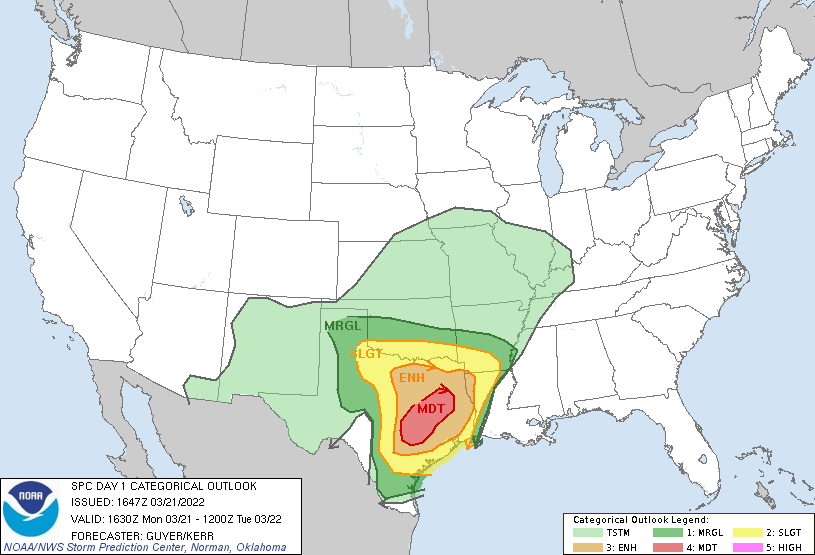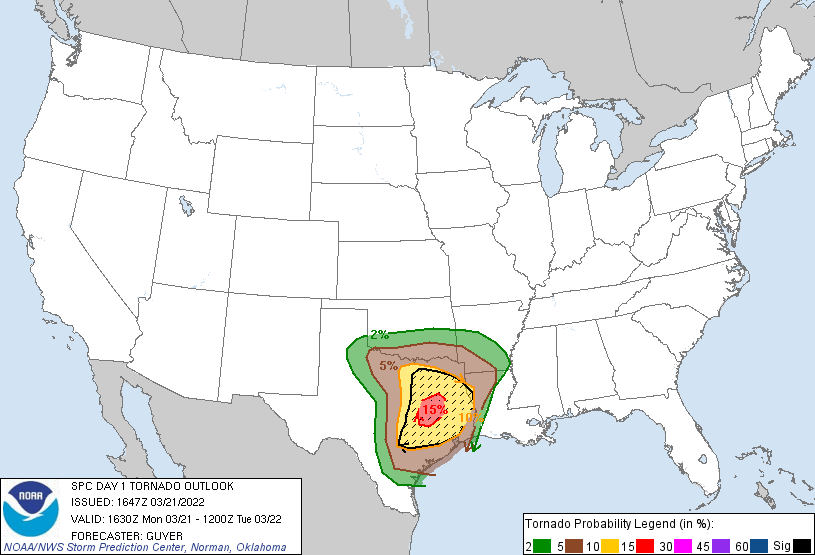 Severe weather outlooks issued by the SPC (Storm Prediction Center) on 3-21-22:
Austin is a beautiful city, but the traffic in Austin is terrible. With storms expected to initiate close to Austin, my best bet to document these storms when they were producing tornadoes, was to stay to the east of the city, allowing the storms to mature and make their way to me, rather than chasing them through rush-hour traffic. In Austin and to the west is the Texas Hill Country.

A vast land of rolling hills, dotted with cedar trees and other scrub brush. Tough chasing territory. Running through the middle of the Austin area is interstate I-35. To the east and northeast of Austin is quite a bit of farmland. As you leave Austin to the northeast, you go through the city of Round Rock which sits on highway 79. Further east on highway 79 is Hutto, and then Taylor. To the north of Taylor on highway 95 is Granger, as well as Granger Reservoir.

The reservoir is a nice getaway close to Austin; an escape from the busy city life in Austin. I spent a lot of time at the Granger reservoir when I lived in Austin for those 15 years, and now I found myself targeting this area for tornadoes.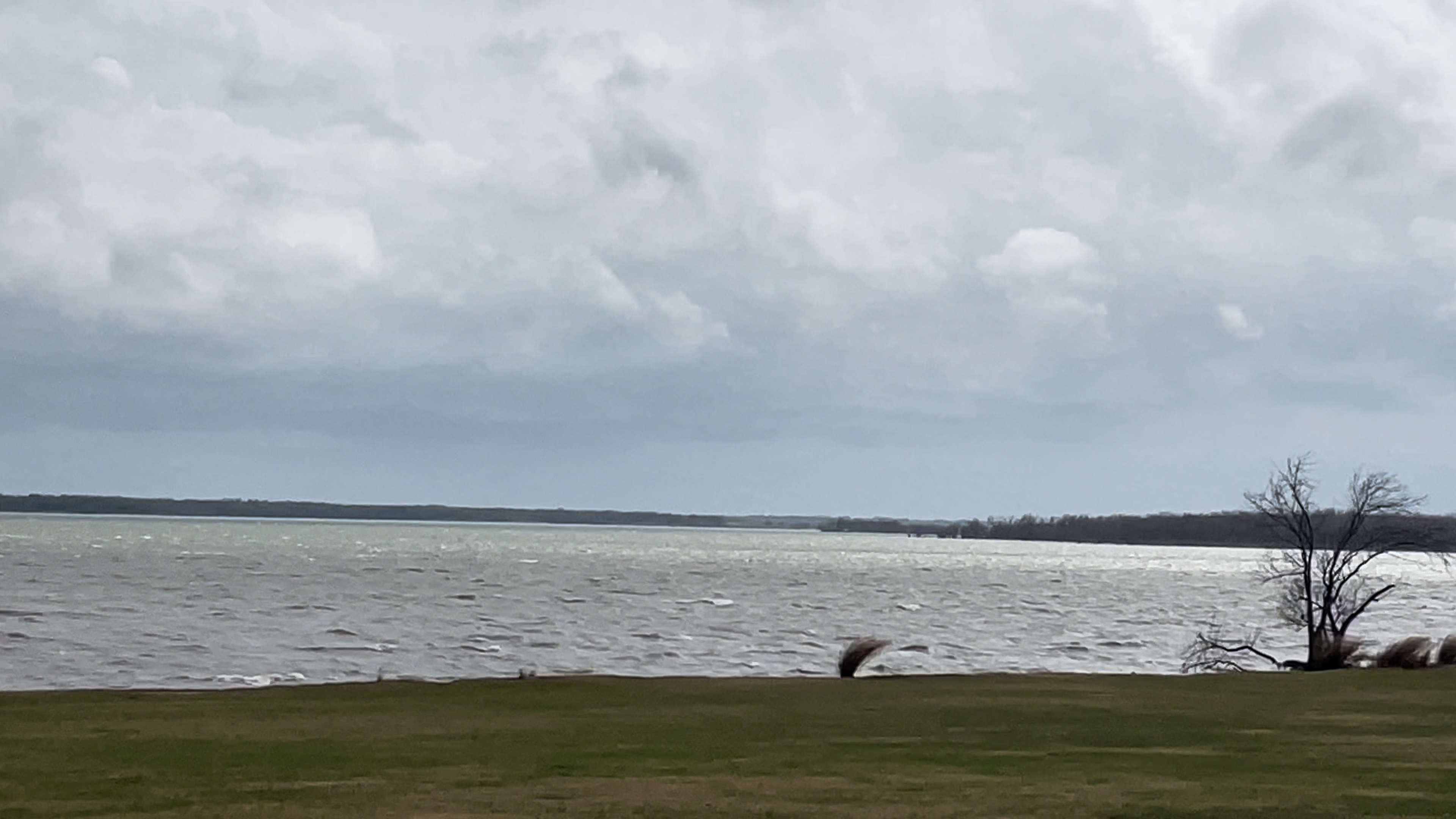 Granger Reservoir in Granger, TX less than an hour before a tornado passed nearby
Multiple supercells initiated in the afternoon in the Austin area and along the I-35 corridor on this day. I was in good position in my target area of Taylor, TX. My target to the northeast of Austin was for several reasons:

1) It offered great chasing terrain with excellent visibility, and was in an area I could navigate without GPS due to familiarity

2) The weather models showed one of the several supercells to fire on the dryline, skirting the Travis County (the county that Austin is located in) and Williamson County (the county Granger/Taylor are located in) lines, and headed right for the good terrain I was targeting

3) Highway 79 out of Taylor gave me an east option to keep up with the storms deep into the evening.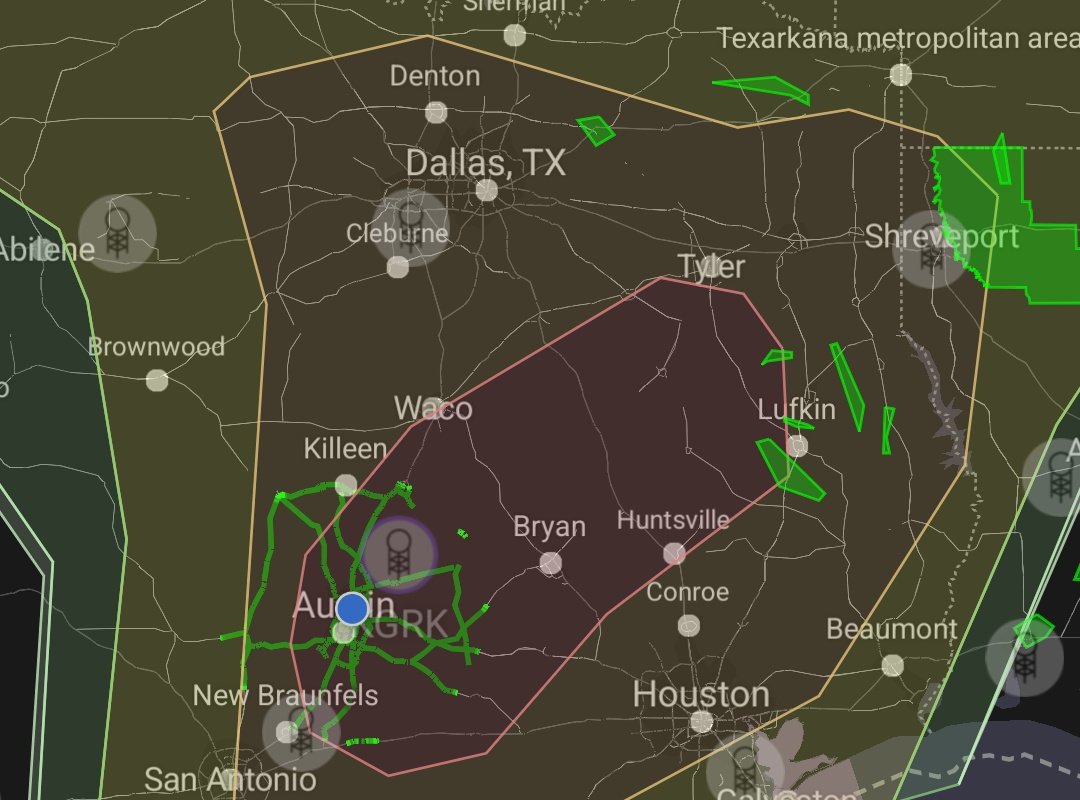 MyRadar screen share of the severe weather outlook and Aaron's location
As the supercells matured, I would stalk them up and down Highway 79, at one point even going all the way into the town of Jarrell, known for a devastating tornado that hit there in May, 1997. When I got to Jarrell, I backtracked back toward Taylor, TX. I even visited my old friend, the Granger Reservoir during this time. The storms needed more time still to organize themselves and get severe and even tornado warned.
As time went on, the storms continued to march to the east. Initially firing to the west of Austin, they slowly crept east and northeast off of the dryline. One supercell had Jarrell in its target. Another one had Austin in its target, with Round Rock then Taylor/Granger further downstream. Another one was south of Austin and had Elgin, TX in its sights and finally a fourth supercell closer to San Antonio was rotating east as well.

As the storms began to cross over interstate I-35 on the east side of Austin, I moved down a few miles south of Taylor, but still on highway 79. On radar I could see that these supercells were beginning to rotate and could start producing tornadoes very soon. I put my drone into the air and got visual of the base of my target storm about to go through Round Rock, TX.

As I was flying the drone all of these storms started getting tornado warnings. On radar, it looked like the storm headed toward Jarrell might start producing a tornado. I considered racing up to that storm, but decided to stick to my plan and target the storm coming right to me, in great chasing terrain. The storm looked like it could start producing a tornado at any moment as well.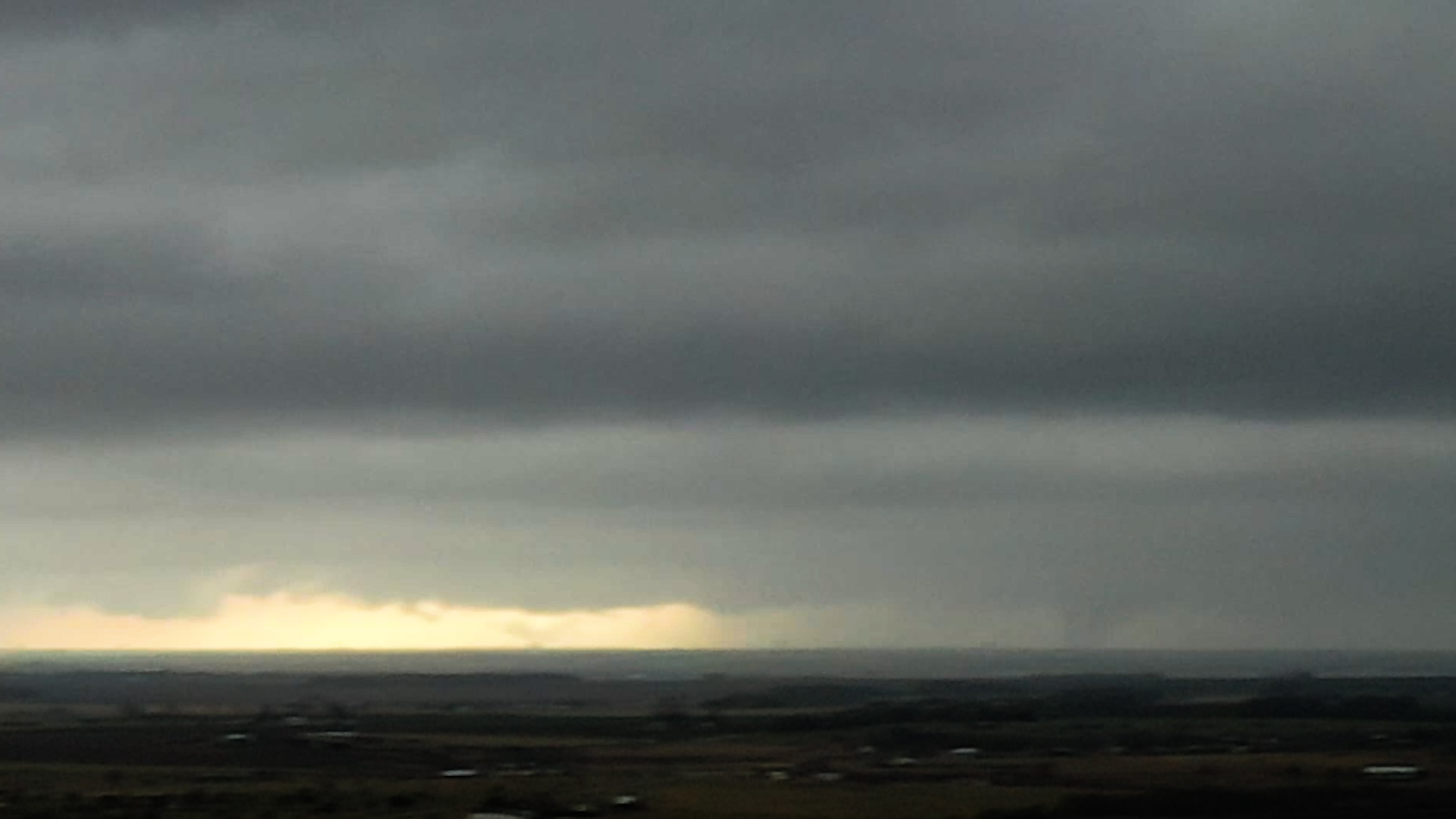 Aaron's drone captures a tornado as it moves through Round Rock, TX on 3-21-22
I decided I needed to start moving to the north side of Taylor. For one reason, the storm I was targeting was headed that way but this also got me closer to the Jarrell storm just in case it started producing a long track tornado and the storm I was currently targeting did not produce a tornado.

So I drove to the north side of Taylor and as I was doing so, I could see on radar that my storm was most likely also now producing a tornado in Round Rock.

As I got north of Taylor into open farmland, I could see the storm to my west; there was a conical shaped wall cloud right in the "hook" of the storm. The "hook" is the area where inflow is feeding fuel into the updraft of a supercell and is where a tornado will form.

After a few minutes, this conical wall cloud formed into a fully condensed tornado. It was about 10 miles to my west and was approaching directly toward my location a few miles north of Taylor, and a few miles south of Granger, on highway 95.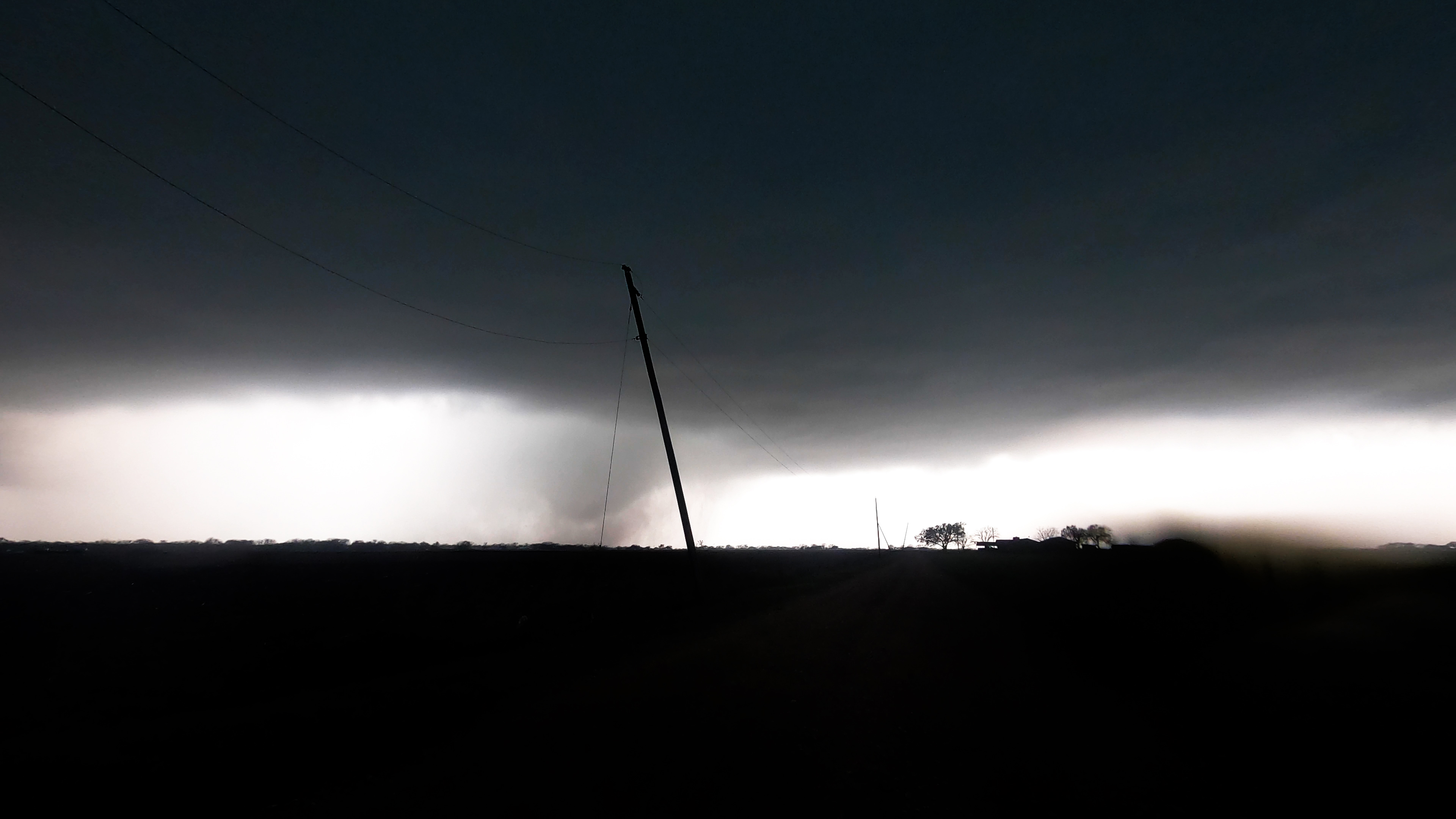 Conical wall cloud approaching highway 95 south of Granger, TX as seen from Aaron's GoPro
For at least 10 minutes I watched the storm morph from a stovepipe tornado, to a conical wall cloud with brief touchdowns, and even at one point the tornado was briefly completely rain-wrapped by sheets of rain being rotated around the tornado. The tornado began to get very close to my location, I was going to have to move I thought, as I watched a farmer drove down the lane I was parked on, fleeing his home to escape the tornado.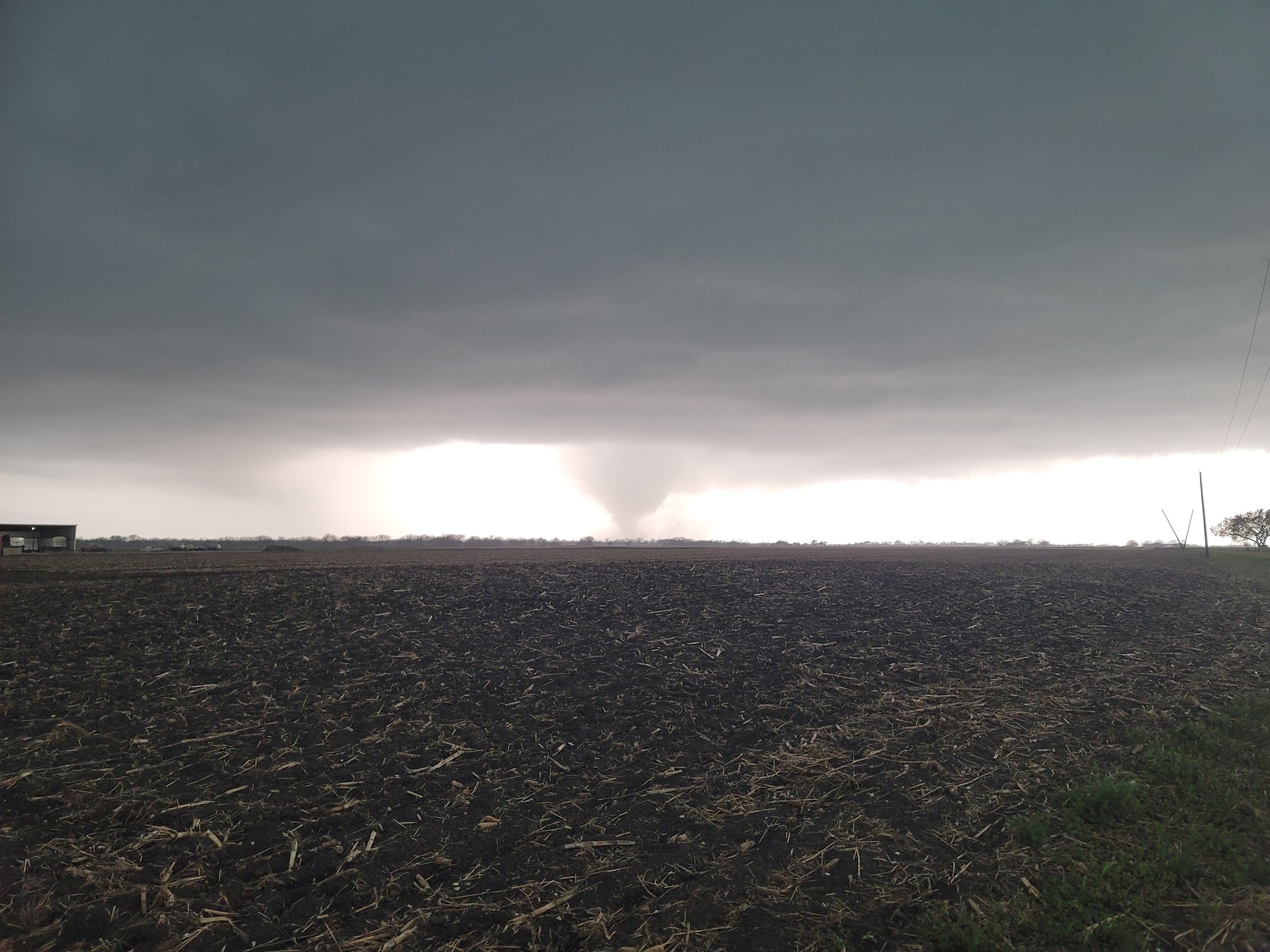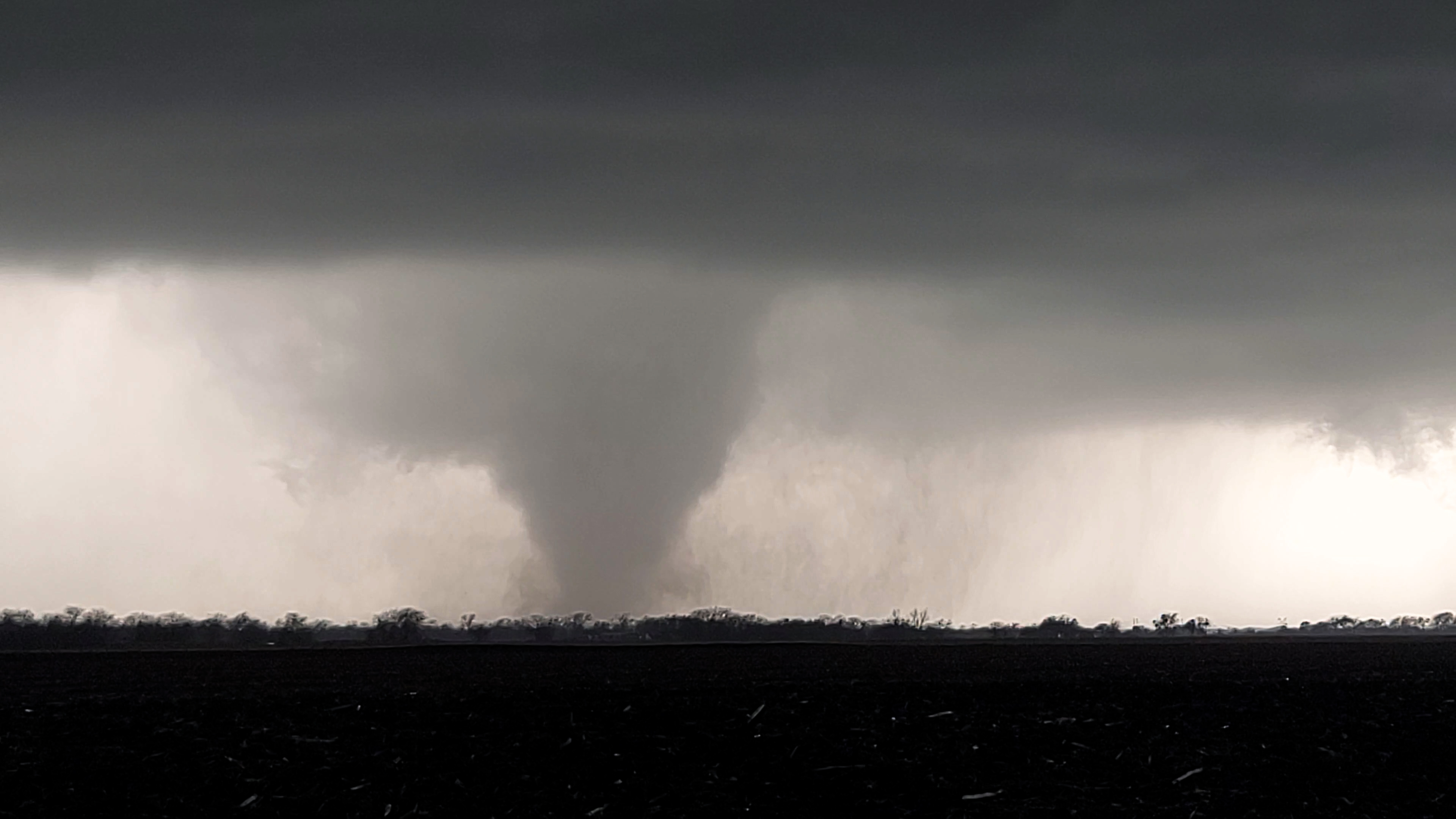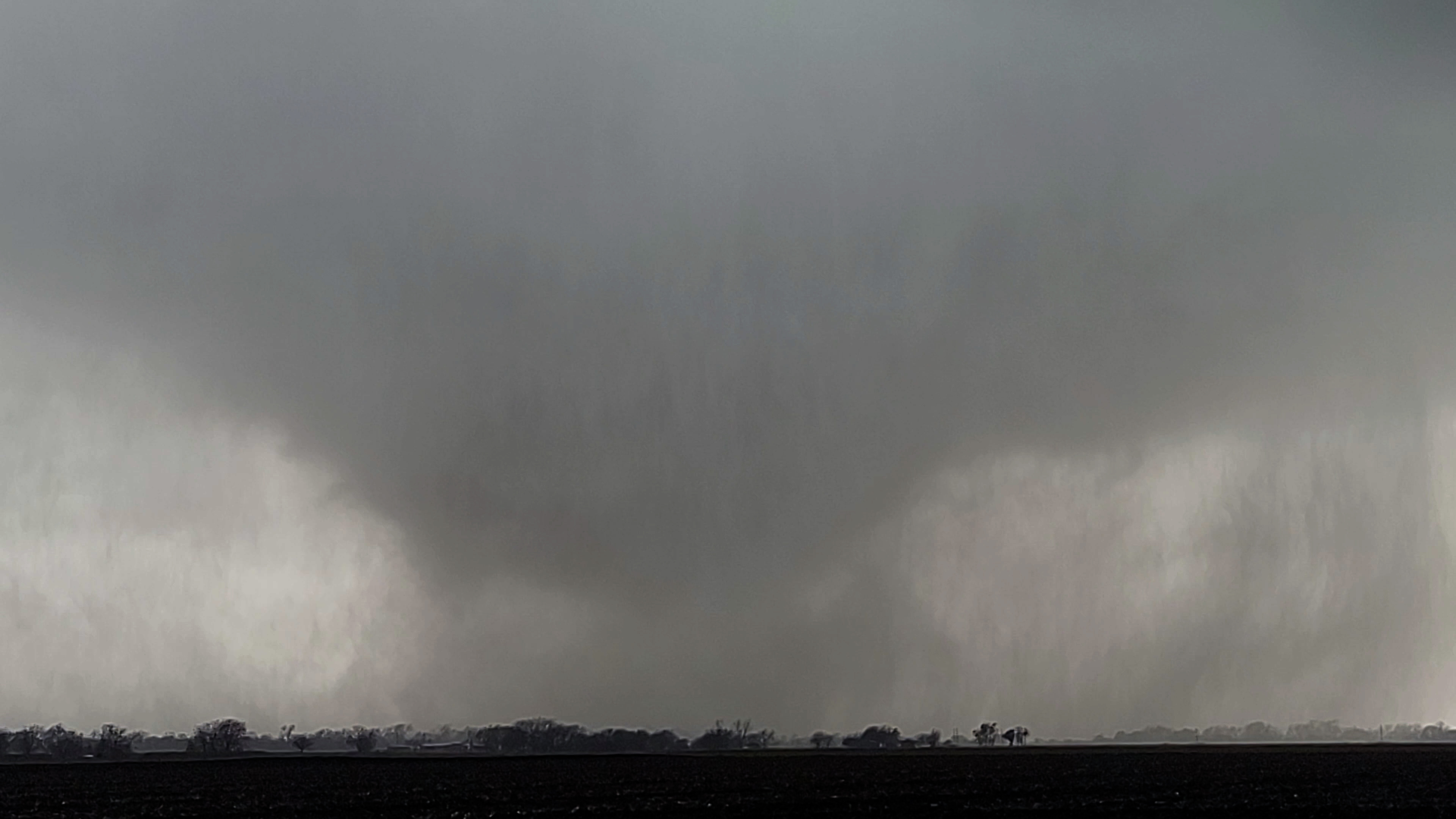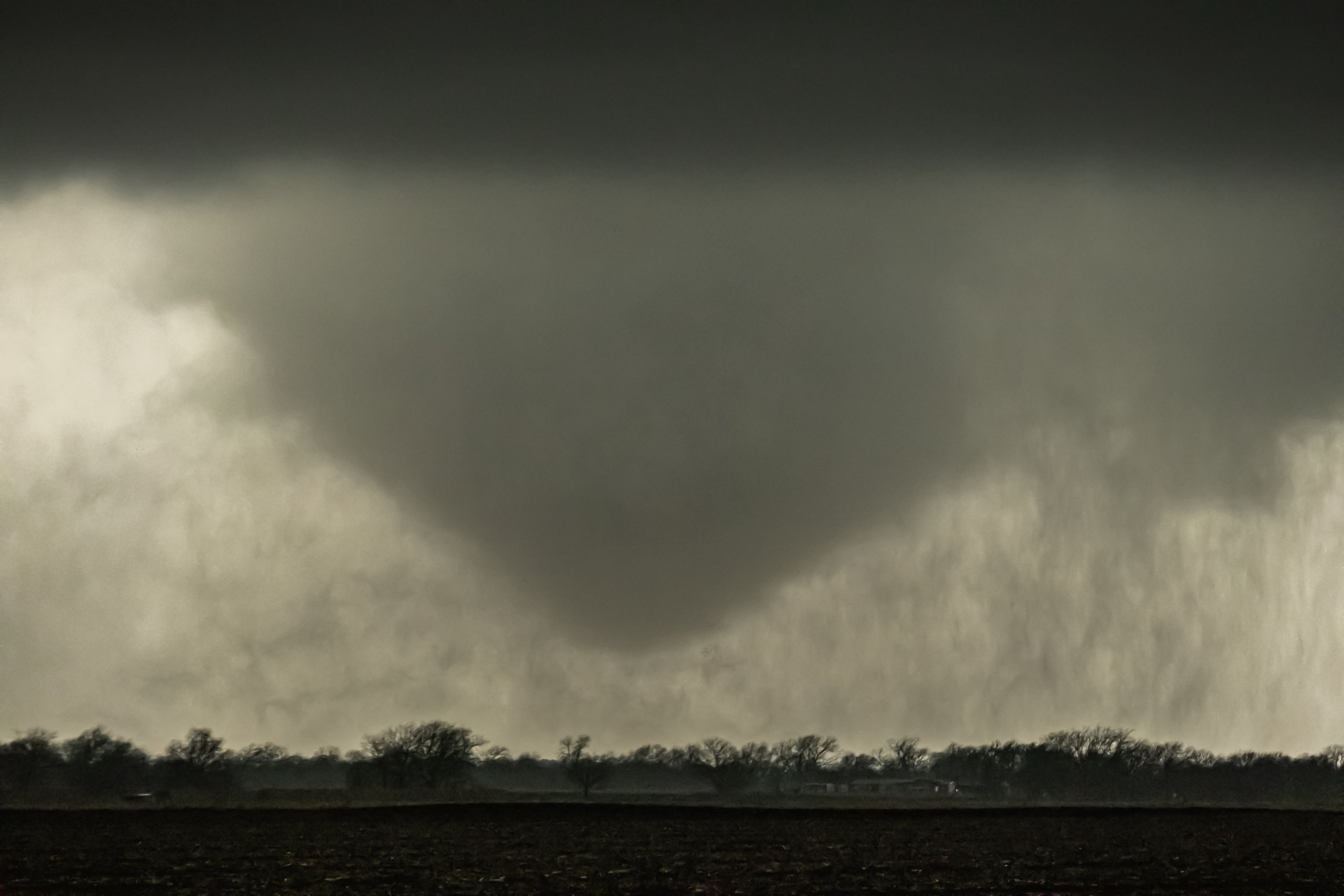 A tornado approaches highway 95 south of Granger, TX on 3-21-22
I blasted to the south, out of the way of the tornado as it quickly approached (surprisingly quicker than anticipated) my highway escape route. As I cleared the edge of the tornado, out of harms-way, I pulled my vehicle over and got out of the car to start filming the monster.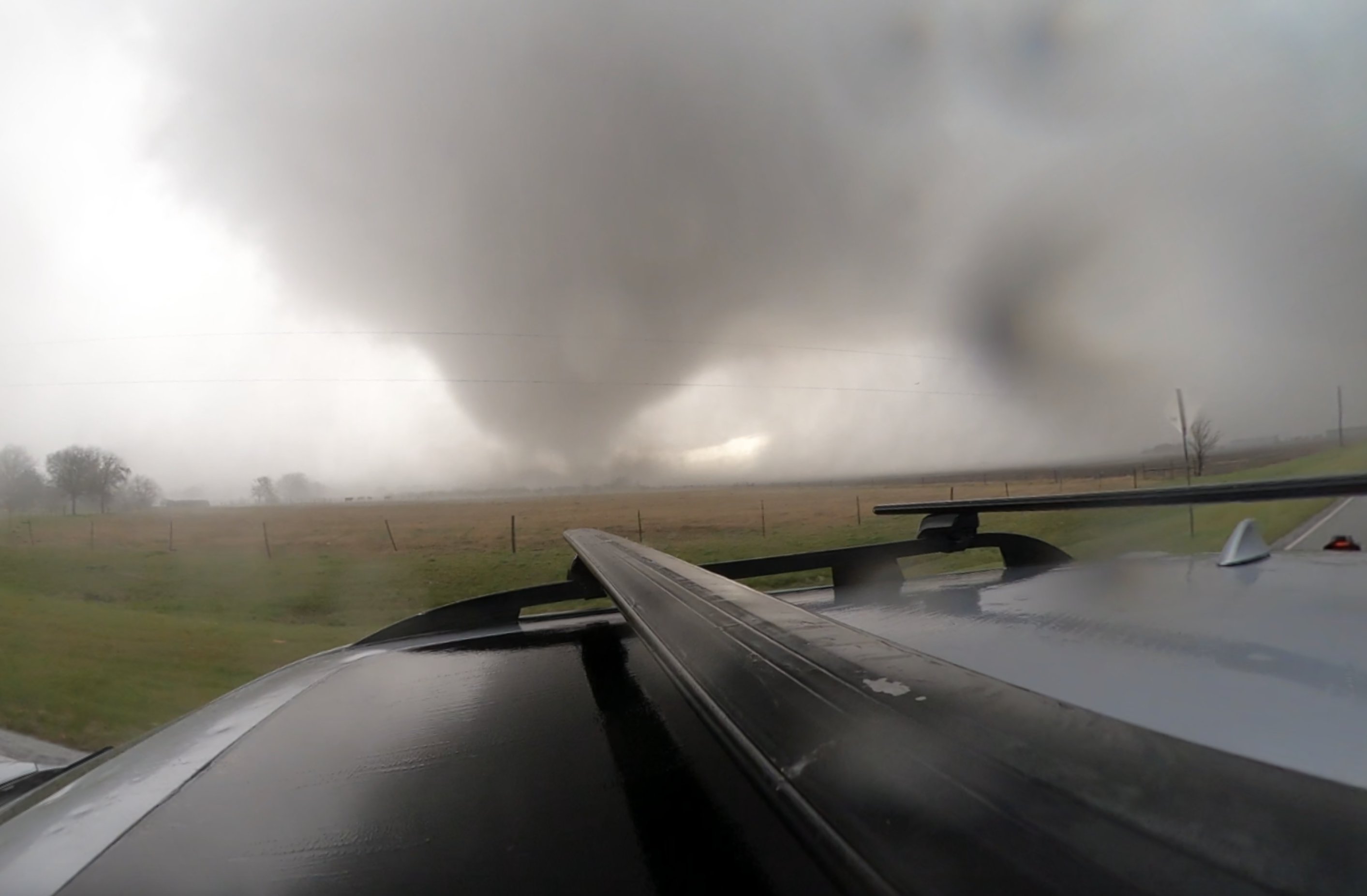 Screen grab from Aaron's 360 camera as he passes by the tornado moments before it crosses highway 95
Rains whipped across the highway, blasting me in the side of the face as I used my vehicle to block the wind and rain as best I could. This tornado beast roared as I looked up at it; it was magnificent and terrifying and wretched all at the same time.

It was close, just a 100 yards or so away. It made me feel small; it was just me and this beast with no other humans between it and I.

As it spun across the highway, I began to lose visibility of it as RFD (rear flank downdraft) winds wrapped curtains of rain around the monster. I jumped back in the vehicle, spun around and chased after it.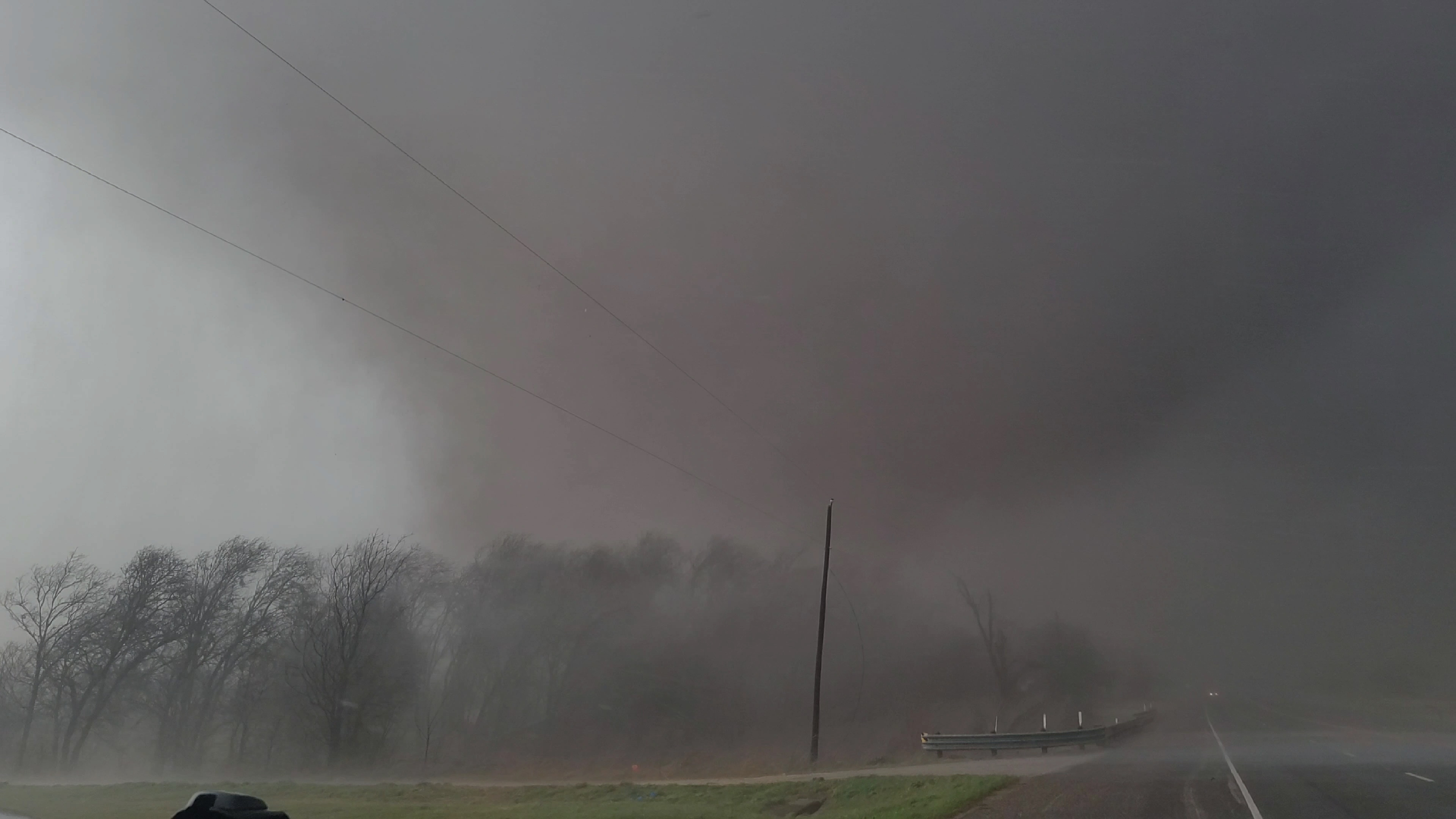 A strong tornado crosses highway 95 north of Taylor, TX; a resident fleeing their home narrowly escapes (see headlights on road)
As I approached the location the tornado crossed, I could see power-poles that were snapped in half. Debris was thrown across the field to my east. The tornado had hit a storage facility that sat out in open farmland along the highway.

There was a trailer of some sort sitting on the side of the road that had been tossed from the storage facility. Further up the road I came across a house with moderate damage and debris thrown everywhere. I continued north towards Granger.

I knew I had an east option in Granger that could get me back close to the tornado for another intercept.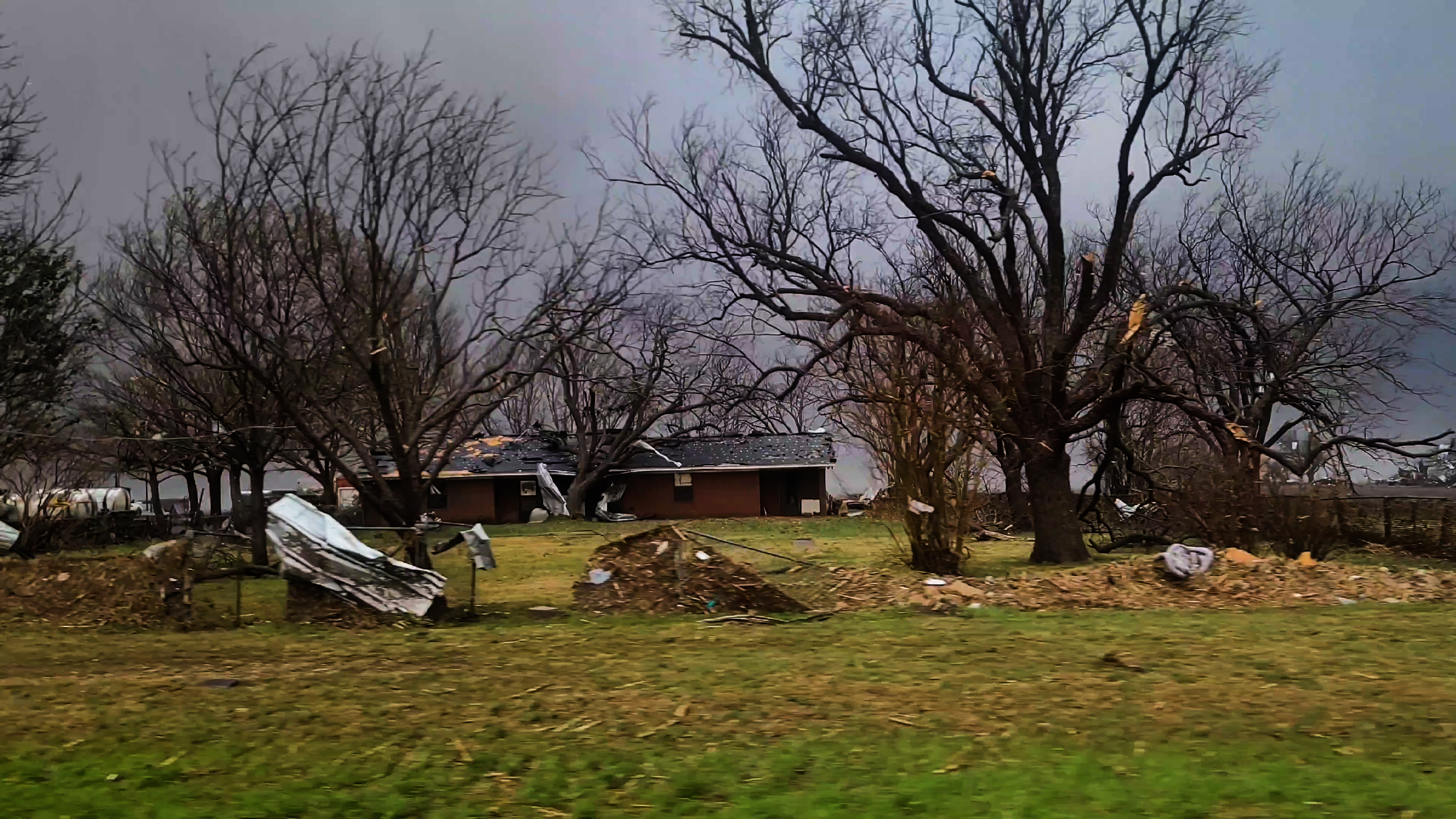 Damage to a home and business on highway 95 south of Granger, TX
As I moved east out of Granger and caught up with the tornado, I began to get hit by the blinding RFD winds and rains yet again.

I was right on the heels of the beast.

I couldn't see it, but I knew it was there, hidden in the rain. I only need to push a little further east and I'd get through the rain and get a view of the tornado once again.

I came upon the damage path on the road I was on, and that's where my chase ended as I hit a power line that had been brought down to street level by the tornado.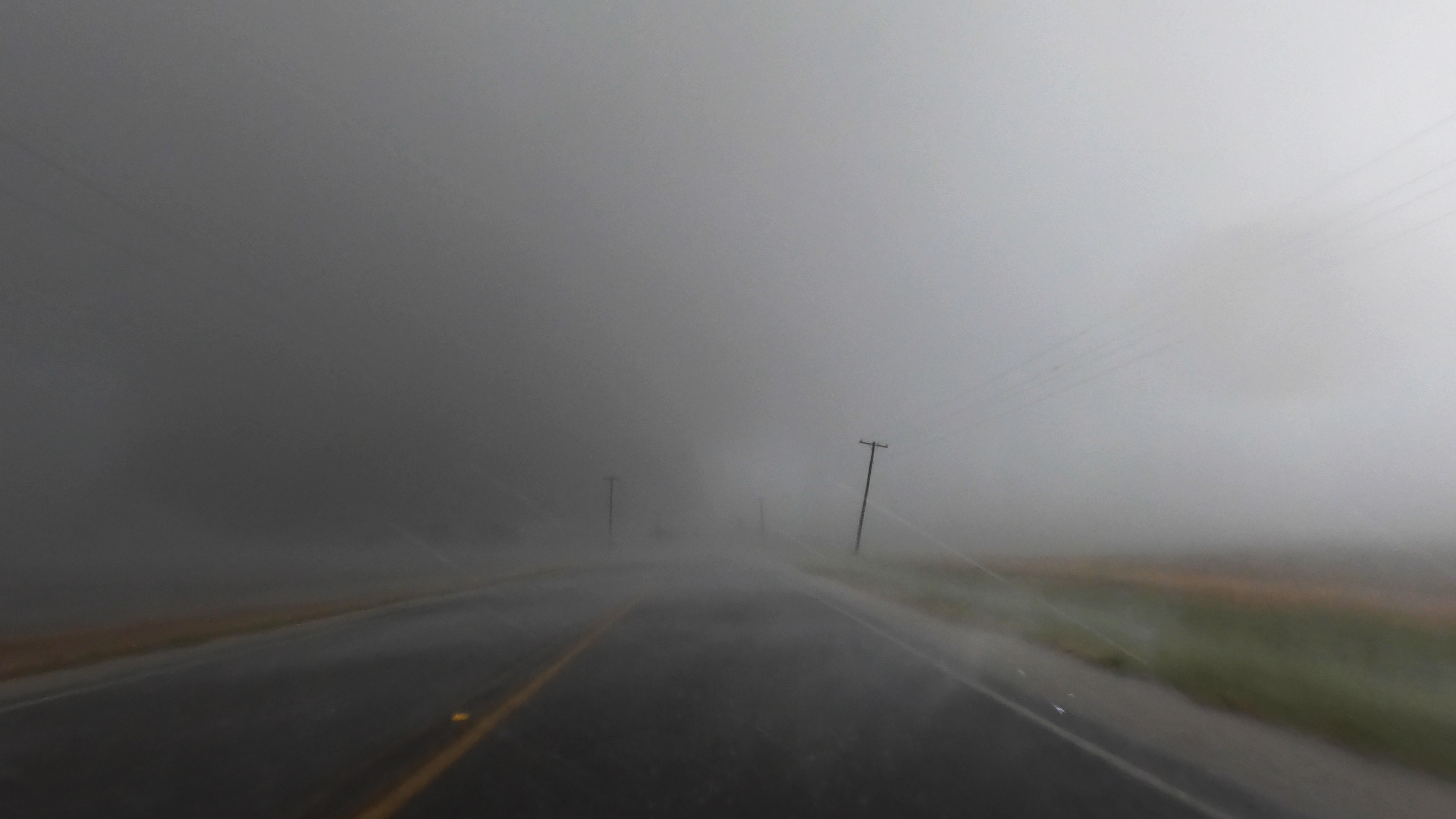 Tornado appears ahead in the rain east of Granger, TX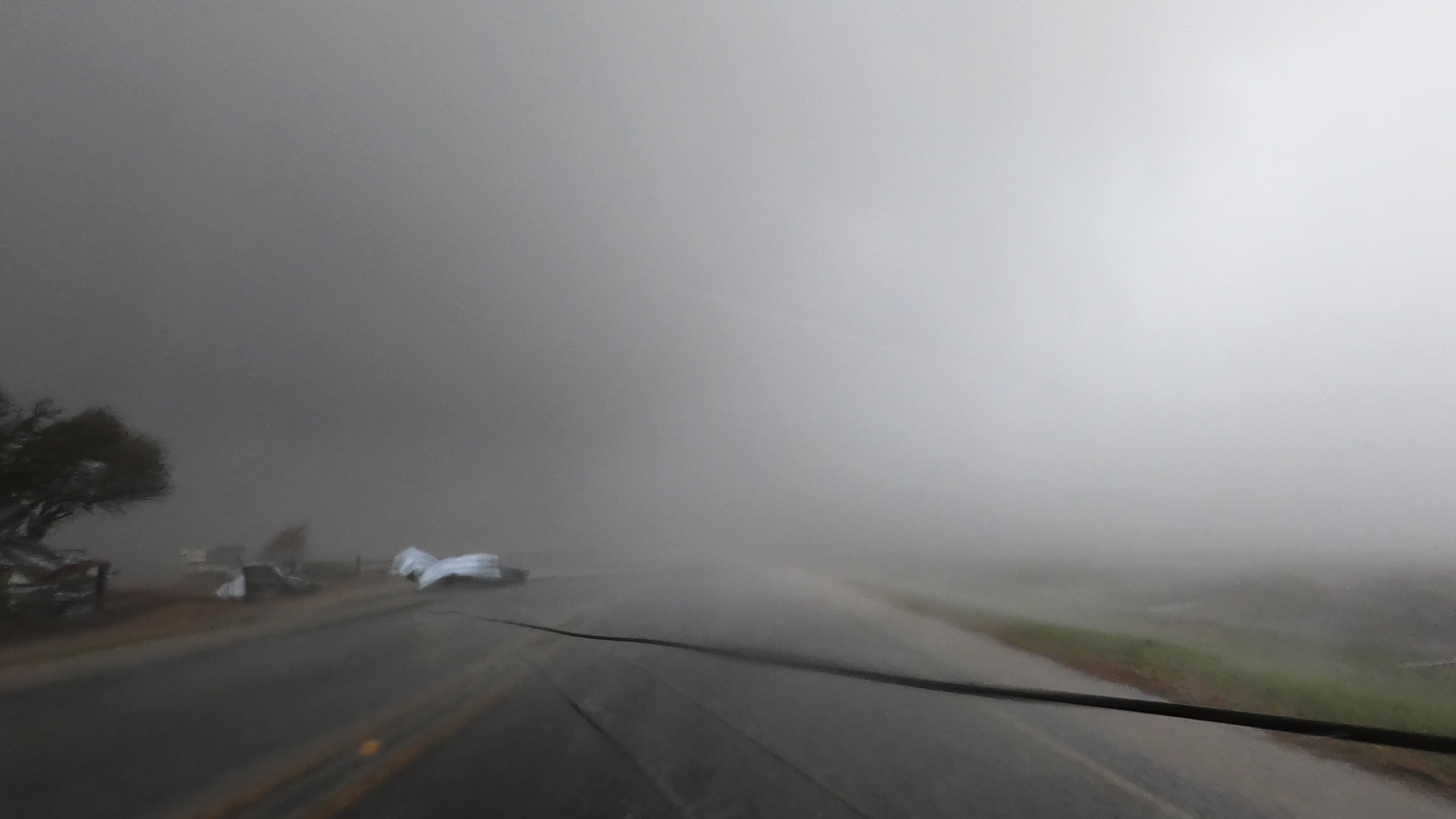 A powerline stops the chase after a tornado brought it down on the road
This tornado would dissipate a few miles later, but the storms for this day were not done. Through the night, supercells continued to produce tornadoes across east Texas. I would track these storms east across Texas through the night, eventually leaving the storms to get well east ahead of the storm system for the next day.

Another day that was forecast to be a potent severe weather day for Louisiana, Mississippi and Alabama. Thankfully, March 22 did not produce tornadoes like as was forecasted or had occurred the day prior.
March is almost over but the active month continues until the very end with another new threat for March 29th, 30th and 31st.

Severe weather is forecast late Tuesday night from Nebraska, through Kansas and Oklahoma and down into Texas. The Tuesday threat is a nocturnal threat.

Then the severe threat continues into Wednesday the 30th for Louisiana, Mississippi and Alabama. Wednesday appears to be the most significant risk of the series of severe weather days coming up.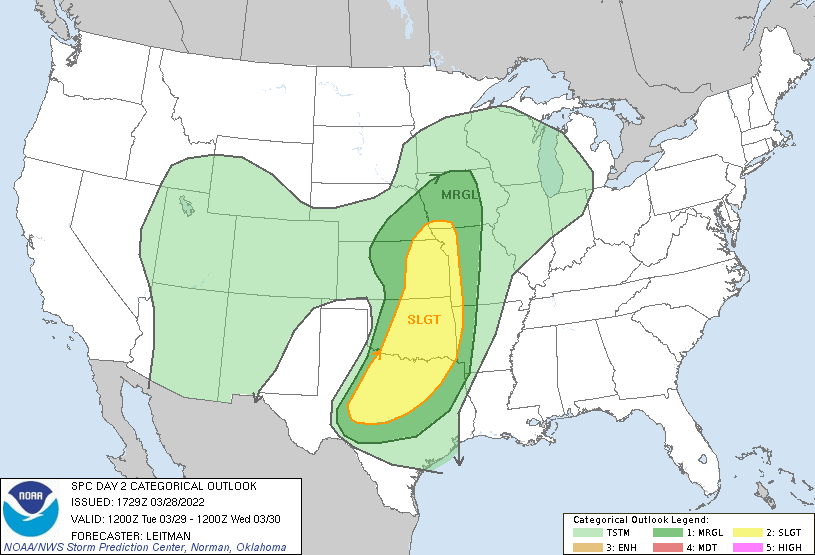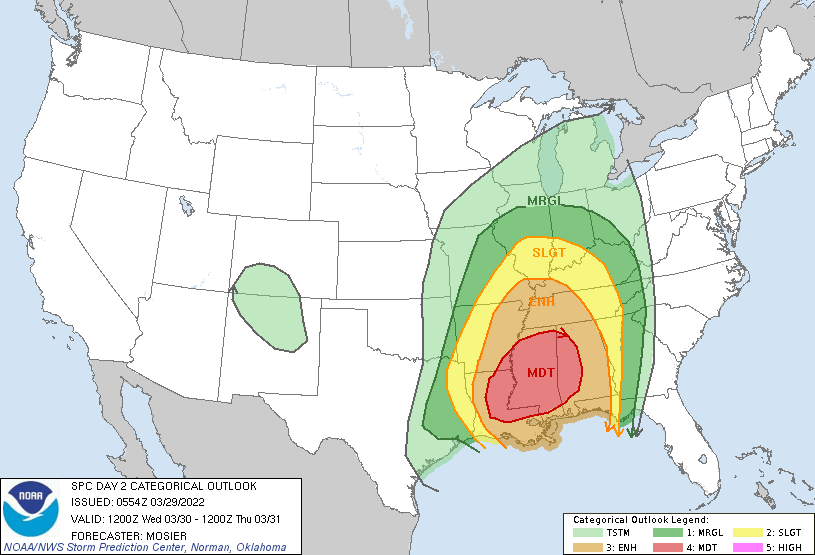 Convective outlooks issued by the SPC for Tuesday, March 29th and Wednesday, March 30th.
Spring severe weather season is just getting started but it has already been explosive.