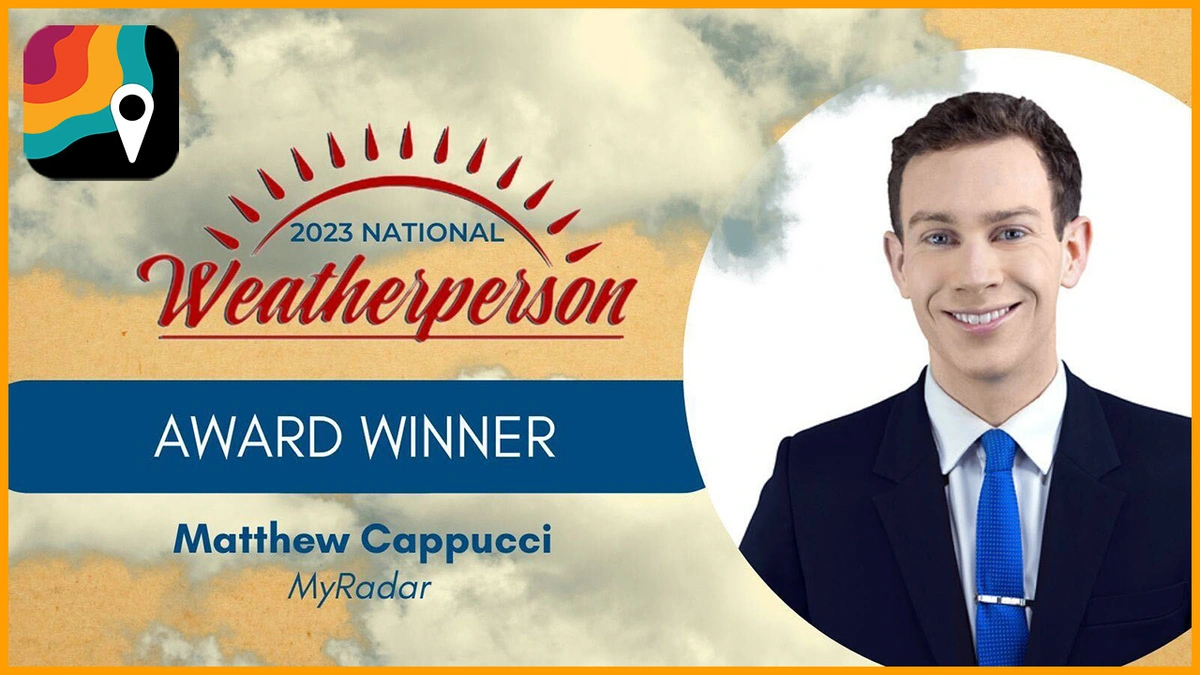 MyRadar
News
—
Federal Alliance for Safe Homes Names Matthew Cappucci 2023 National Weatherperson of the Year
by Mike Linden | Director of Video & Social Media Content/Meteorologist
2/3/2023


TALLAHASSEE, Fla., Feb. 3, 2023 /PRNewswire/ -- Today, the Federal Alliance for Safe Homes, Inc. (FLASH) named MyRadar, Capital Weather Gang, and FOX5 DC meteorologist Matthew Cappucci as the 2023 National Weatherperson of the Year.
Matthew is a meteorologist and storm chaser for MyRadar, an on-air meteorologist at FOX5DC, and publishes daily articles in The Washington Post. Additionally, he makes regular appearances on NPR, BBC News, DW News, and SkyNews Arabia. Matthew graduated from Harvard in 2019 with a degree in atmospheric sciences.
"It is with great honor that we recognize Matthew for his dedication to bringing a new generation into the disaster safety and resilience movement through his innovative and multi-platform approach to weather awareness and education," said FLASH President and CEO Leslie Chapman-Henderson. "He is creative, caring, and committed to helping his viewers, followers, and students become weather aware to stay safe. Congratulations to Matthew and all of our outstanding 2023 National Weatherperson of the Year finalists who serve the public with excellence every day, especially during hurricane season."
"Matthew is a one-of-a-kind meteorologist," said Mike Linden, Director of Video and Social Media Content at MyRadar. "His love for weather is perhaps only outmatched by his love for helping people (and maybe waffles). Whether in the field or on the air, his passion for communicating the complexities of Mother Nature to people of all walks of life is simply unmatched in our industry."
Below is a sampling of voter comments:
Matthew is a huge advocate for preparedness in the DC area and beyond through his work. He educates the audience on the science and what to look out for when it comes to various types of severe weather.

Matthew Cappucci

communicates all of his weather knowledge in a very clear and understandable way, contributing to citizens' safety and resilience.
Matthew's weather forecasts are fun, informative, and ever-present on social media. He represents a new generation of science communication through an indomitable passion for weather that shines through each of his many projects. His emphasis on education is vital to disaster safety.
The 2023 finalist lineup included Amy Freeze, FOX Weather; Paul Goodloe, The Weather Channel; John Patrick, ABC7 – Fort Myers; and Erik Salna, Extreme Events Institute – FIU.
Nominators cited the finalists for outstanding leadership through standout local forecasting, education, real-time updates, and life-saving information during extreme weather events. All received high marks from award voters for their contributions to the cause of disaster safety and resilience.
Past National Weatherperson of the Year award winners include:
2014 – Jim Cantore, On-Camera Meteorologist, and Co-Host, "AMHQ" - The Weather Channel
2015 – Max Mayfield, former National Hurricane Center Director
2016 – Alex Garcia, Chief Meteorologist - KABB-TV, San Antonio, TX
2017 – Dr. Richard Knabb, Hurricane Expert & Tropical Program Manager - The Weather Channel
2018 – Ada Monzón, Chief Meteorologist, AMS Fellow - CBM-WIPR-TV, Puerto Rico
2019 – James Spann, Chief Meteorologist - ABC 33/40, Birmingham, AL
2020 – Joe Snedeker, Morning Meteorologist - WNEP Newswatch 16, Scranton, PA
2021 –

Ginger Zee

, Chief Meteorologist - ABC News
2022 –

Ken Graham

, Director - National Weather Service
The National Weatherperson of the Year award coincides with the celebration of National Weatherperson's Day on February 5, the birthday of the pioneering weather observer John Jeffries. Jeffries work in the 1780s paved the way for many aspects of meteorology today.
Finalists and winners are selected based on qualitative evaluation and public polling.
About FLASH
The nonprofit Federal Alliance for Safe Homes (FLASH) is the country's leading consumer advocate for strengthening homes and safeguarding families from disasters. The FLASH partnership includes more than 100 innovative and diverse organizations that share a vision of making America a more disaster-resilient nation, including FEMA, Florida Division of Emergency Management, Huber Engineered Woods, International Code Council, ISO - Verisk Analytics, MyRadar, National Weather Service, Renew Financial, Simpson Strong-Tie, State Farm, and USAA. In 2008, FLASH and Disney opened the interactive weather experience StormStruck: A Tale of Two Homes in Lake Buena Vista, FL. FLASH's signature program No Code. No Confidence. - Inspect2Protect.org provides consumers with a one-of-a-kind building code transparency tool to easily identify their community's building code. Learn more about FLASH and access free consumer resources by visiting www.flash.org and www.Inspect2Protect.org, calling toll-free (877) 221- SAFE (7233), following @federalalliance on Twitter, and Facebook.com/federalalliance.
SOURCE Federal Alliance for Safe Homes (FLASH)