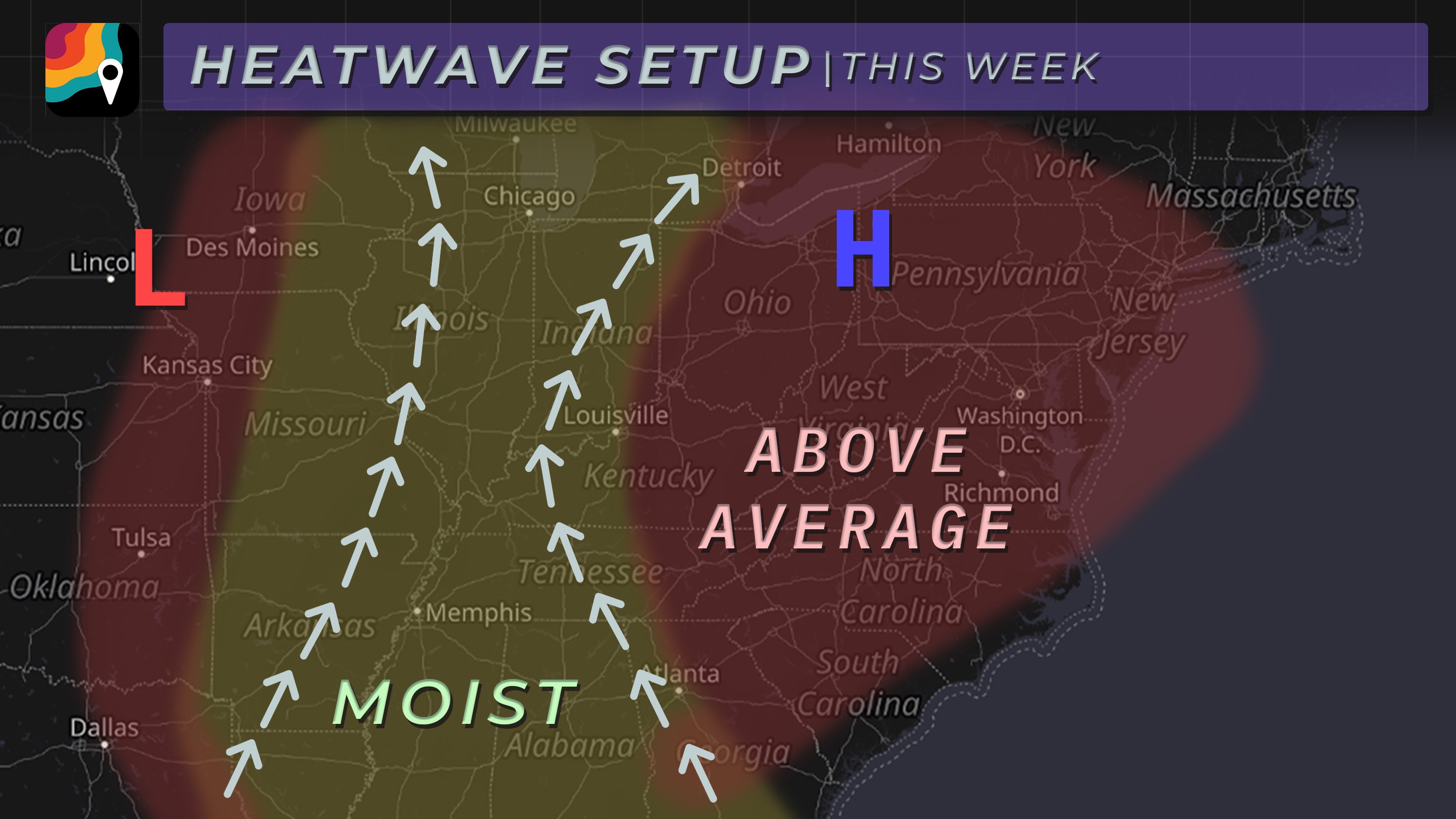 MyRadar
News
—
Heatwave to Shatter Daily High Temperature Records Across Central U.S. Today and Tomorrow
5/11/2022
If you live in the Central United States and stepped foot outside yesterday or today, you may be wondering "who turned up the heat?"
Seemingly out of no where, we went straight from our perfect and mild May weather with highs in the 70s to sudden scorching temperatures. It's no secret that living where we do, our bodies get somewhat used to the cold weather during the winter.
As a result in the springtime, 50s can feel like t-shirt weather, and 60s can even feel toasty. You may be thinking with this sudden heatwave that it only feels this hot because our bodies haven't gotten used to the warmer weather yet. While there is some truth to that, it would be naive to ignore the fact that this isn't just "warm" weather, this is record breaking heat we're experiencing here in the Central U.S.
Here in my home base of Evansville, Indiana - yes, where the nationwide manhunt for Vicky and Casey White concluded this past Monday- we broke our daily high temperature record just yesterday (record was 88° (2018) and we reached 89°). Today, we are primed to break records again.
As of the writing of this article (5/11/2020 at 1:24PM CDT) and using data from the National Weather Service:
| | | |
| --- | --- | --- |
| Current Air Temperature (Evansville Airport) [KEVV] | Current Forecasted High Temperature TODAY for Evansville IN | Current Daily High Temperature Record for May 11th in Evansville IN |
| 87°F | 90°F | 88°F (2018) |

We aren't just expected to 'beat' the daily high temperature records here today, but shatter them. Statistically speaking, beating a high temperature record by 2° is an impressive achievement. We can't even rule out warming up to 91° as we're already 1° away from breaking the record with plenty of daytime heating left. This isn't just the case here in Evansville, but for almost all of the Central United States.
A current analysis of forecasted high temperatures compared to each station's respective daily high temperature record shows that records are going to be shattered across the central U.S.
Below you can see every station (circled temperature) which is forecasted to break its daily high temperature record today (top image)) and tomorrow (bottom image).
The heatwave is expected to break records in 32 stations across the Central U.S. today (top image) and 34 stations across the same region tomorrow (bottom image).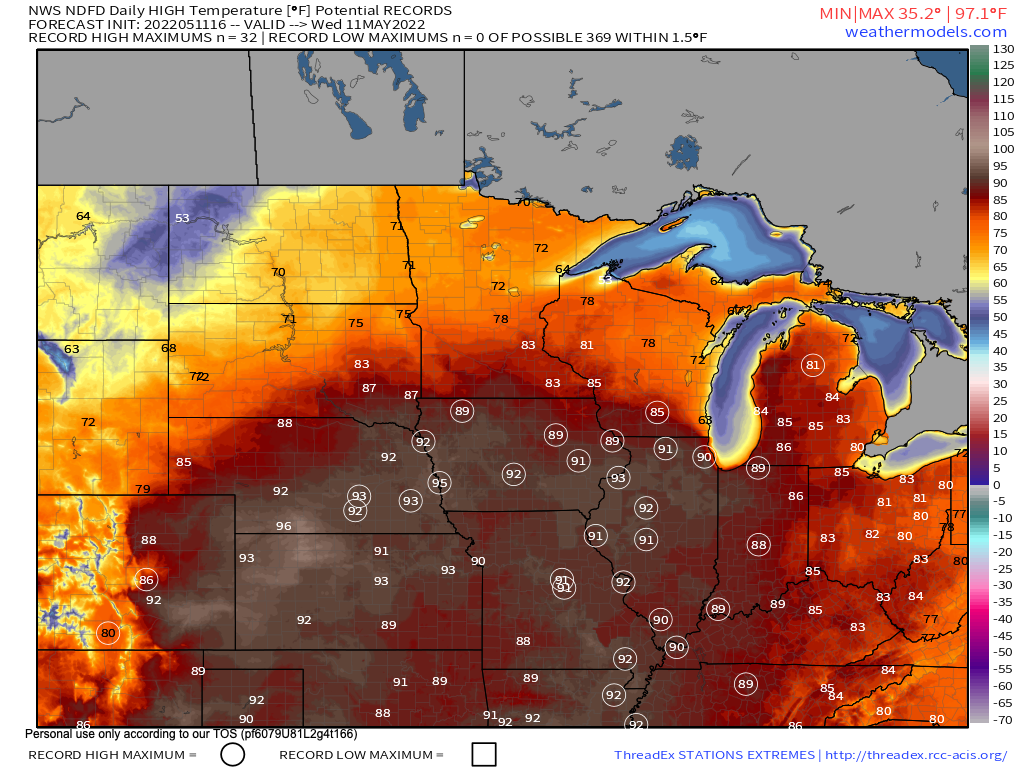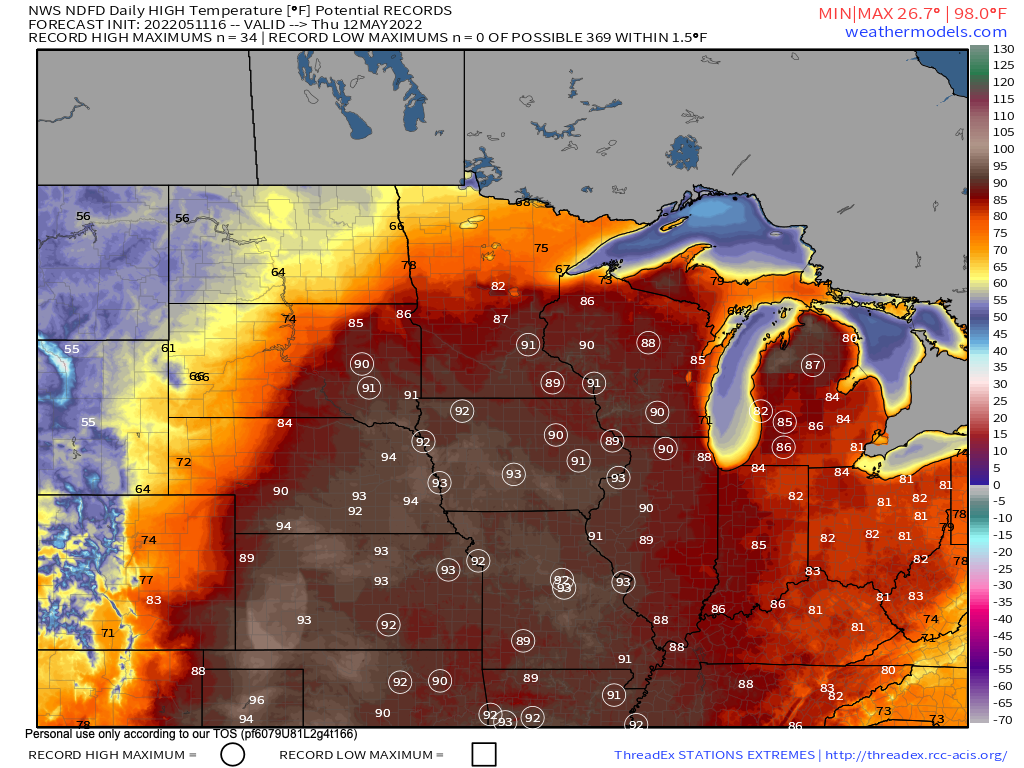 With all this talk about record high temperatures region wide, let's talk about just why this is happening.
This week we are experiencing an atmospheric setup that we frequently experience during the summer months - hence why it feels more like July than May.
We have very strong high pressure which has developed over the northeastern United States, and a low pressure over the Central Plains. Because of where each are located, high pressure and low pressure are feeding off each other and creating a "conveyor belt" of air. This mechanism is delivering very warm and humid air from the South over the Central United States. This effect is on top of an already existing dome of high pressure over us. And as we know, high pressure in the warmer months results in sunny weather and above average temperatures. The stronger the high, the hotter the weather, and we are under the influence of a very strong high pressure.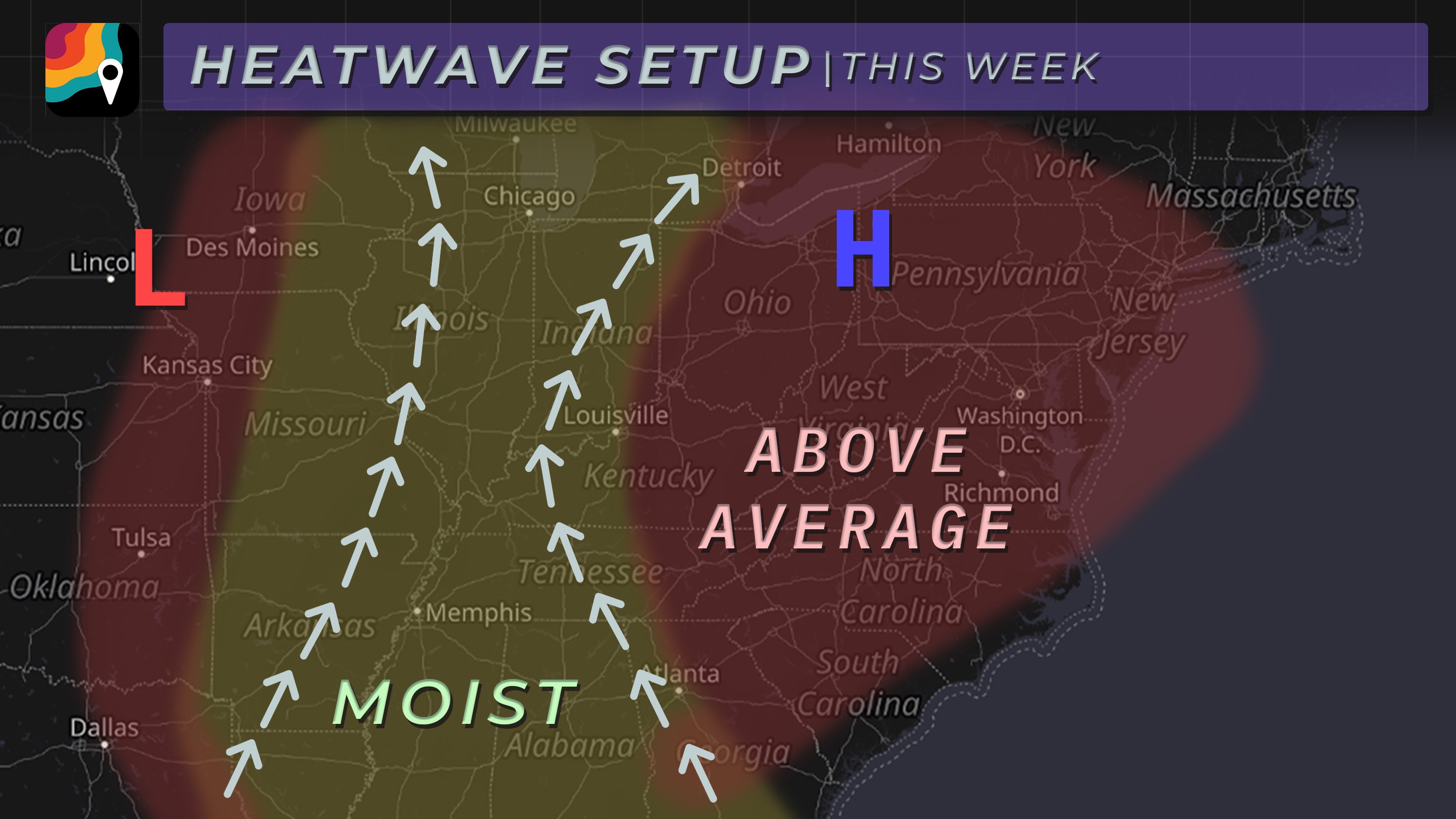 So, not only are we experiencing much above average temperatures from a strong high pressure, but it's situated perfectly with a low pressure to funnel in even warmer air. It's these two effects working in tandem which is resulting in records being broken daily across the Central U.S. this week.
Fortunately for the spring blooms and those of us who aren't ready for summer heat quite yet, high pressure is expected to break down and cooler -more seasonable - weather is expected to return by the weekend!
What are the temperatures like where you are, and are you a fan of the summer-like warmth?