MyRadar
News
—
Hunting Tornadoes In Winter - Deep South Severe Threat
2/17/2022
Tornadoes in the Dead of Winter?
It's mid-February and generally that means hunting down Nor'easters, blizzards and winter storms across the United States. We are in the dead of winter, but that doesn't mean tornadoes can't happen somewhere in the United States. As a storm chaser it is important to remain flexible, and to target what will be the most beneficial to the public and generally that means tornado chasing takes priority.
In fact, this time of the year, severe weather outbreaks are quite common in the deep south. As cold air from the north meets the warm air of the south, severe weather erupts in the warm sector. The warm sector is the area out ahead of the colder and dryer air associated with low pressure systems.
This warm sector can foster tornadogenesis, especially when wind shear (the change of wind speed and/or direction with height) is presented. Tornado chasing "season" always starts for me with severe weather chases in the states of Louisiana, Mississippi, Alabama and Tennessee in January and February.
During the winter months strong winds aloft make severe weather in the deep south quite dangerous. These strong winds can lead to rotating storms that move at high speeds through the dense forest-covered and highly populated land in this region.
February 17th presents just that; the SPC (Storm Prediction Center) has issued an Enhanced Risk for severe weather including a 10% hatched tornado risk area. That 10% hatched tornado risk area means the possibility for strong tornadoes exists. Additionally, it is possible that things could be upgraded to Moderate Risk. Here we see the risk areas that the SPC has highlighted for February 17th.
Enhanced Risk for Severe Weather Issued February 16th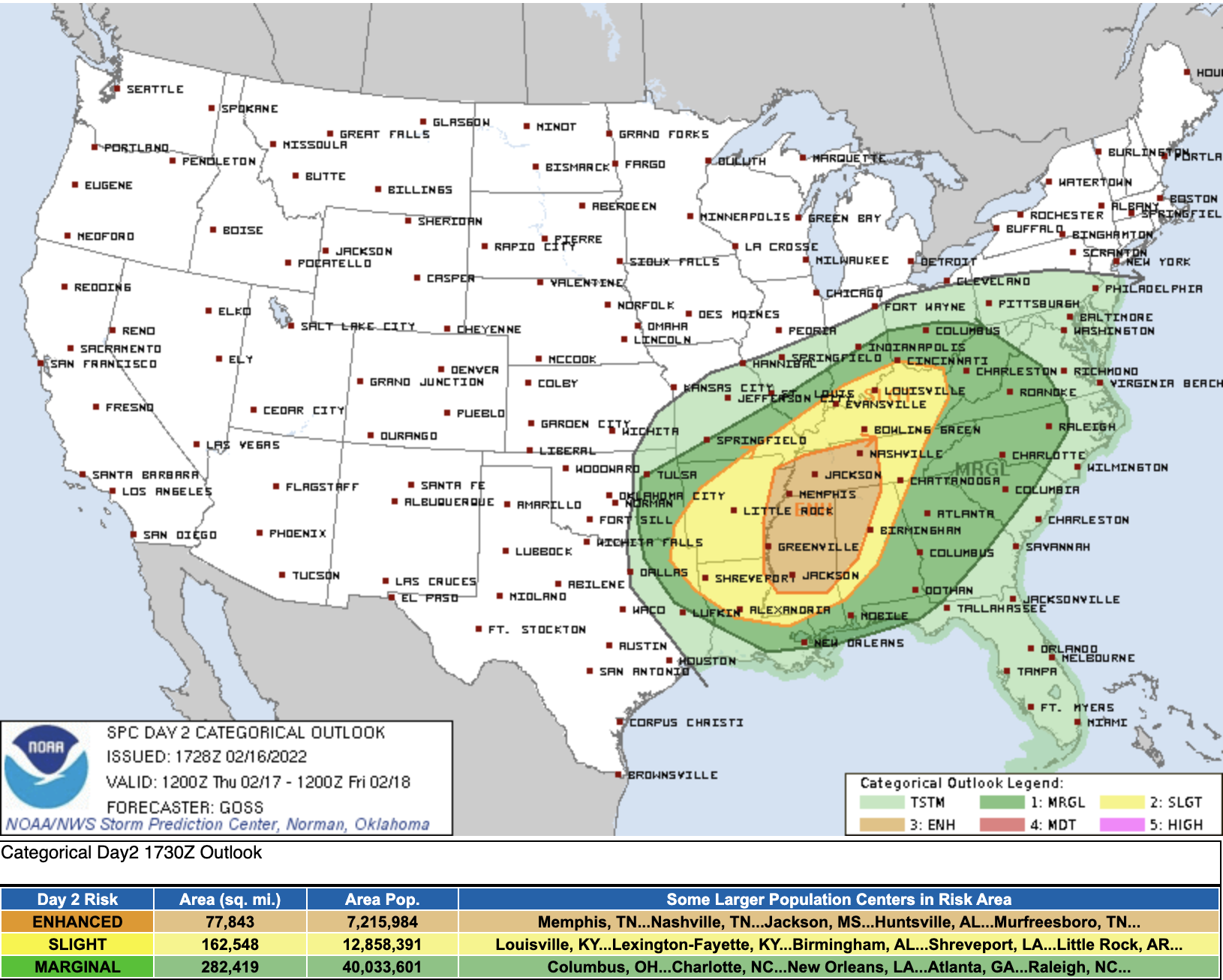 10% "hatched" Tornado Risk within the Enhanced Risk Zone Issued February 16th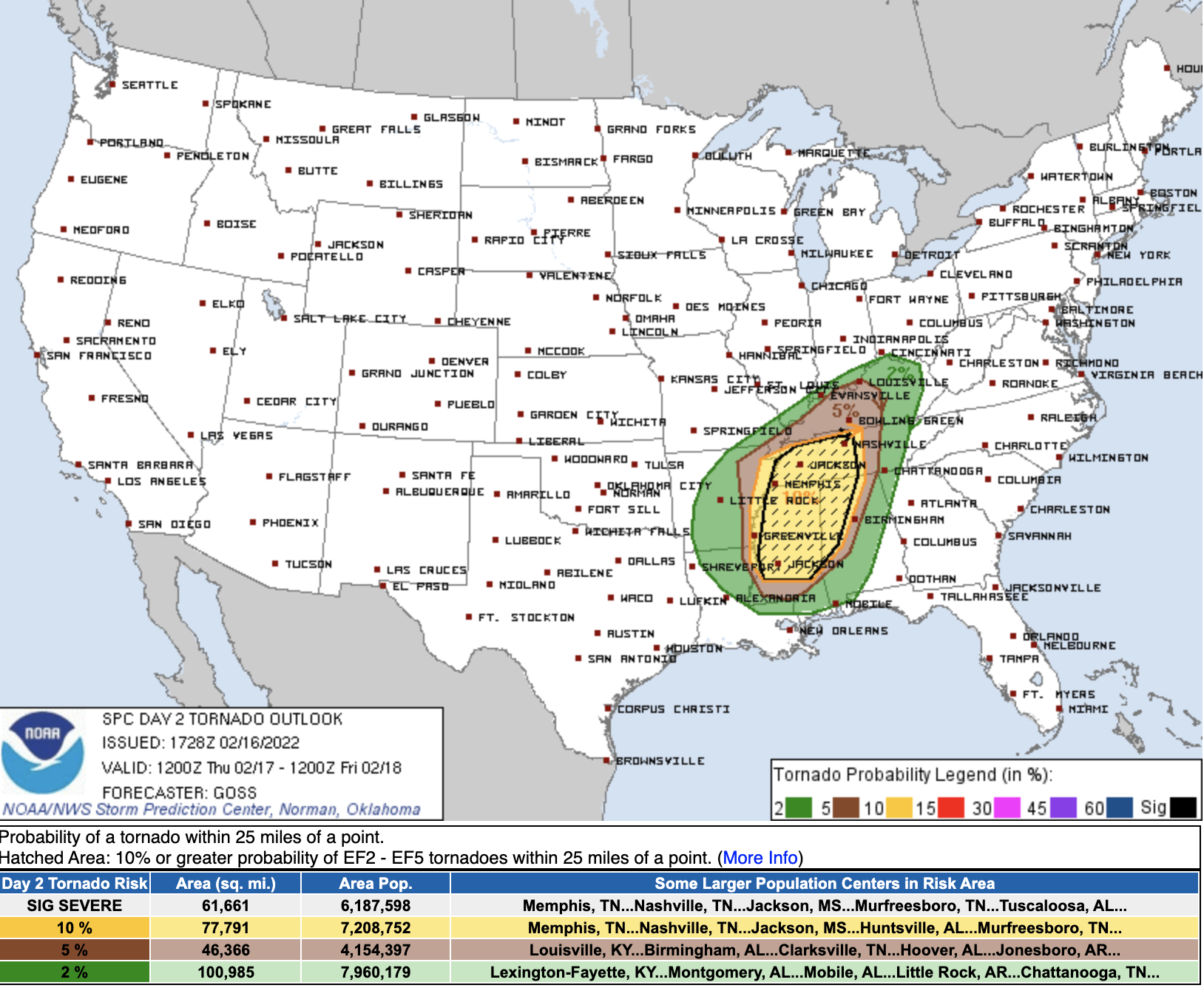 The Setup
Strong shear will be present as a low pressure system makes its way across the Southern Plains of the USA. A cold front will sweep across the deep south. Ahead of the cold front in the warm sector, severe weather including supercells will be possible.
Some of these storms could produce tornadoes, and some of these tornadoes could be strong, long-tracked tornadoes that travel for long distances.
These long track tornadoes spell trouble in the deep south; with such a highly populated area, eventually peoples lives will be impacted by a long track tornado, should one form.
The Gameplan
As I type this, I am flying on a plane from Dallas, TX to Jackson, MS to get into position to document the storms and provide warnings to the public. A key piece of equipment for me tomorrow will be my drone. With my drone, I can get eyes in the sky up over the top of all the forested land in the deep south. I can see tornadoes from many miles away, and I can provide the ground-truth that the SPC, forecasters, and the public needs to stay safe.
The deep south is a complicated place to document storms. Fast moving storms roll through the forested lands at highway speeds. As a storm chaser, you generally have one shot at being in the right spot at the right time with this type of situation (fast moving storms in forested areas). Running east and west out of Jackson, MS is interstate I-20, which provides me east and west options; likely I will be using I-20 to stay ahead of the storms until the right time to get aggressive and "attack" a storm.
To the northeast, several smaller state highways give me options up to Tupelo should storms fire further north. In far eastern Mississippi, highway 45 runs from Meridian, MS to Tupelo, MS (or north to south). Highway 45 allows me to track down and get in front of any storm that requires me to move off of I-20 for intercept. This triangle will be my target zone during this event unless things change in the forecast, before storms initiate.
Here are some maps of my target area. The darker green areas signify forested land.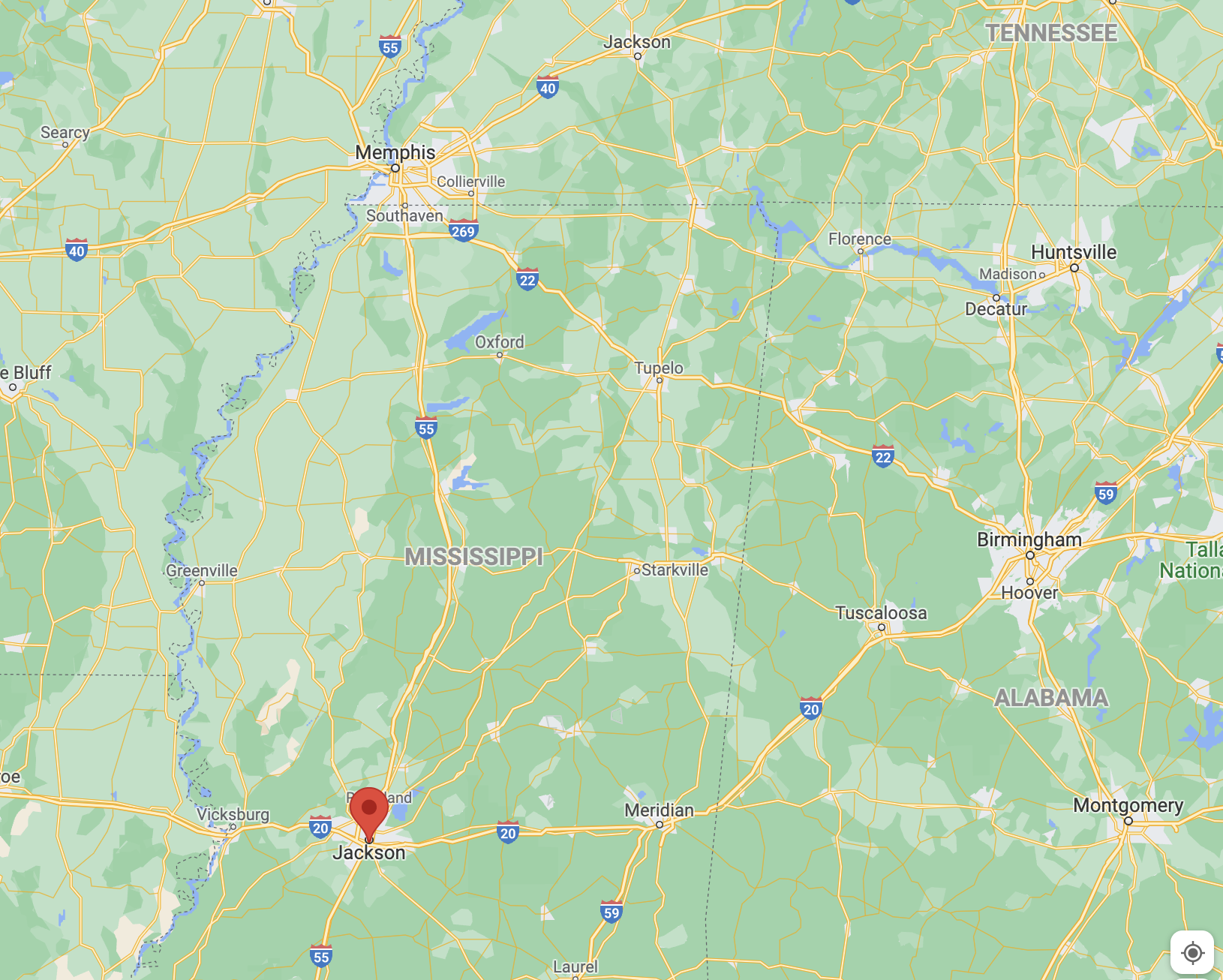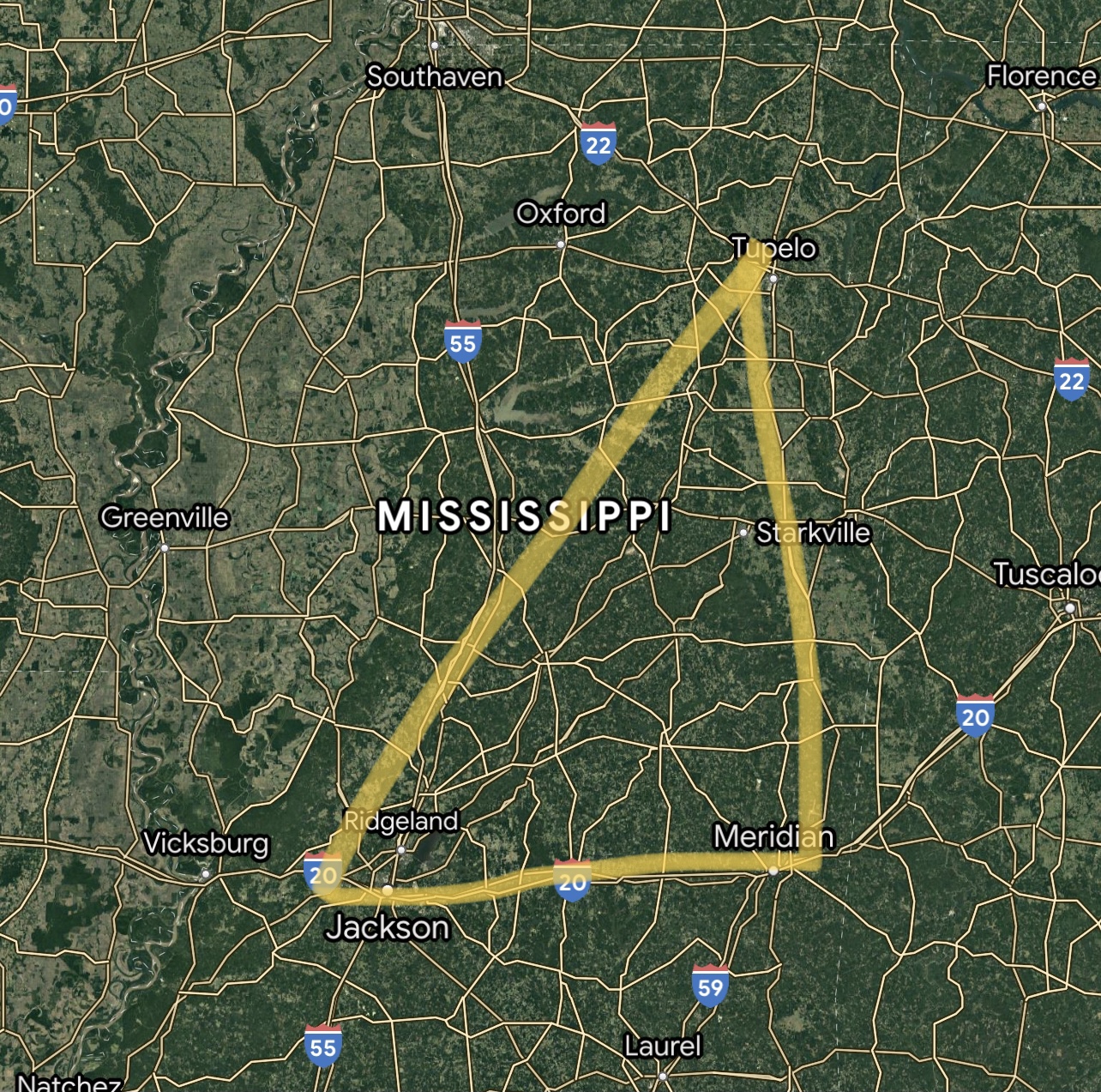 Screenshots from Google Maps of Aaron's Target Area
The Tools
An important tool for forecasters and storm chasers are the CAM (Convective Allowing) models. The HRRR and the NAM 3km can provide some guidance as to when, where, and what mode of storms will fire on any given day. Will it be a squall line of storms or will it be discrete supercells? The model simulation and forecasted environmental parameters can help determine that. Here are two recent model runs for February 17th in Mississippi.
HRRR Simulated Reflectivity 2 PM CST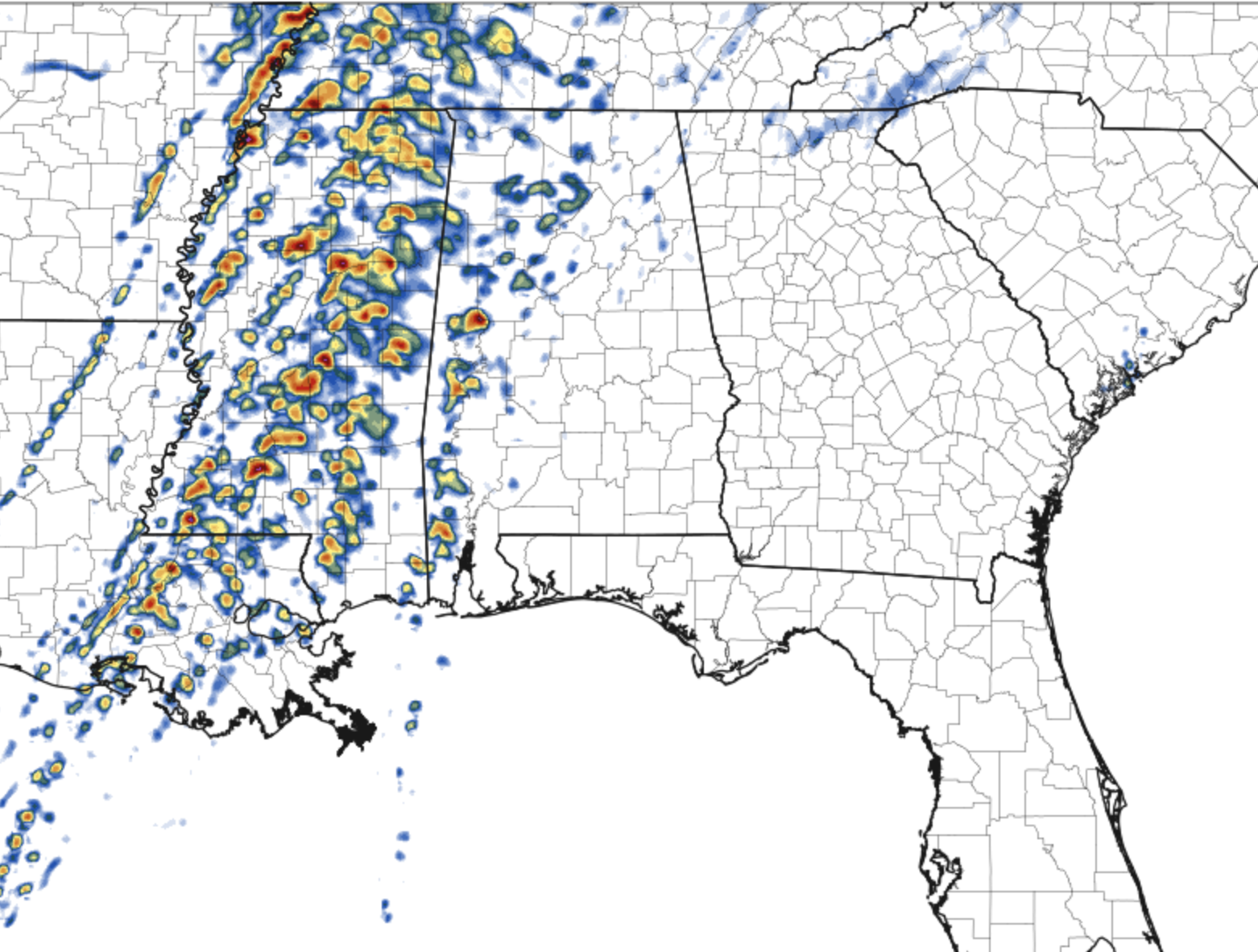 NAM3KM Simulated Reflectivity 2 PM CST
The Winter Component
Meanwhile, while I will be chasing the severe weather in Mississippi, there is also a winter component to the storm system. Parts of the Southern and Central Plains, and the Midwest will see snow on the backside of the system as it progresses across the United States. February 17th is forecast to be a big day for weather as the battle of seasons begins.
As we approach March and April, Winter begins to transition to Spring. Severe storms and winter storms battle it out for dominance, until eventually Spring takes hold and severe weather dominates the United States until the summer months when things in the Great Plains begin to stabilize.
Image from the MyRadar App - Winter Storm Warnings in Pink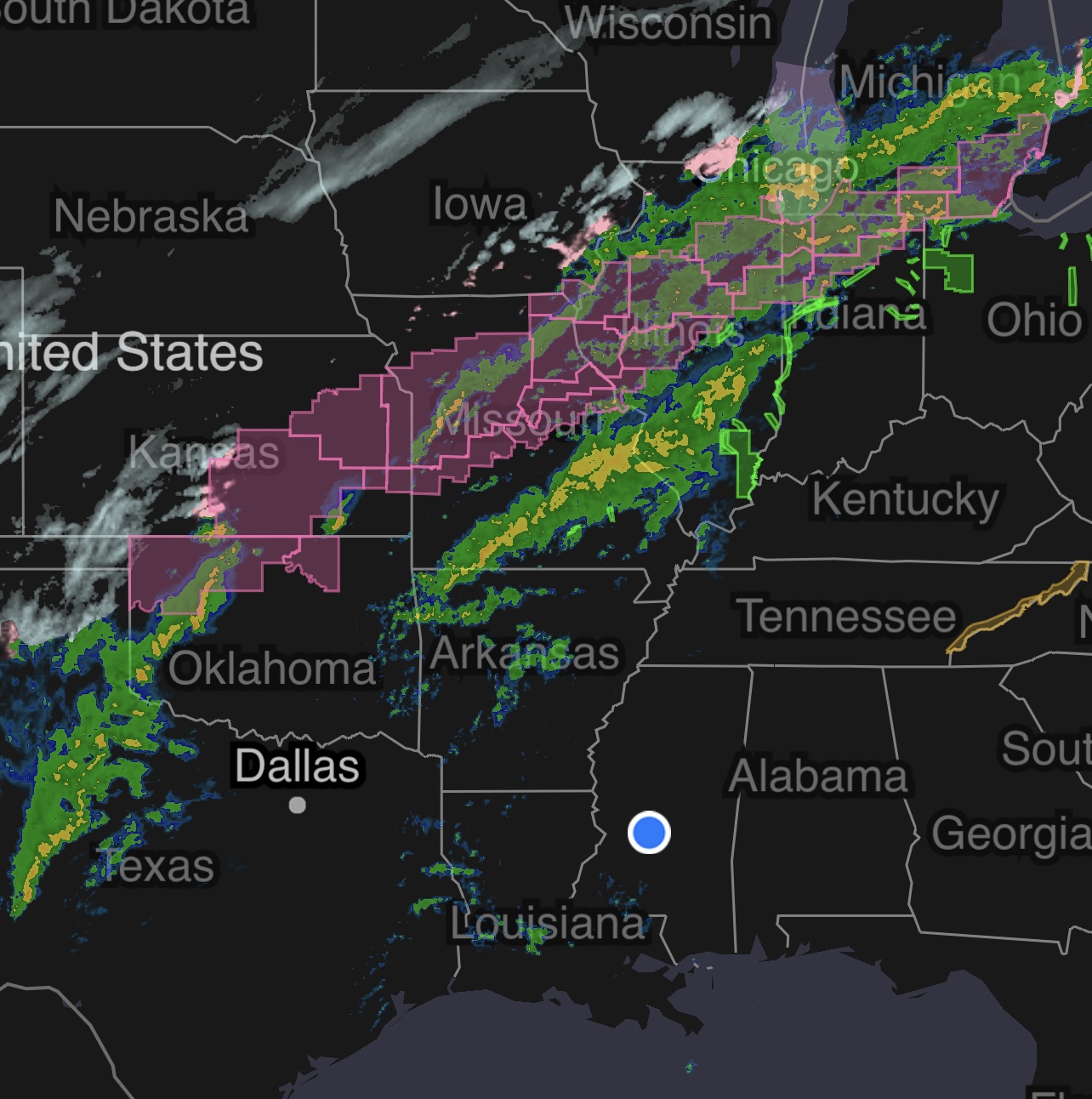 Don't Panic - Listen to Alerts!
If you live in the Danger Zone in the deep south, where severe weather is possible on February 17th, 2022, it's important to stay alert.
Pay attention to watches and warnings. Make sure to have notifications ON in the MyRadar app.
Have a plan for what to do if you happen to end up in a tornado warning. If you do not have a sturdy home to take shelter in, seek out friends or public spaces that are sturdy buildings. Most importantly, don't panic and use all the information and resources at your disposal to keep you and your family safe.
This is just the start of the busy severe weather season, so best to get everything in order now so you are prepared for likely future severe weather events in the coming weeks.
A rain-wrapped "wedge" tornado approaches Brent, AL on March 27, 2021 - Captured by Aaron Jayjack's Drone


Aaron Jayjack, Storm Chaser
@aaronjayjack