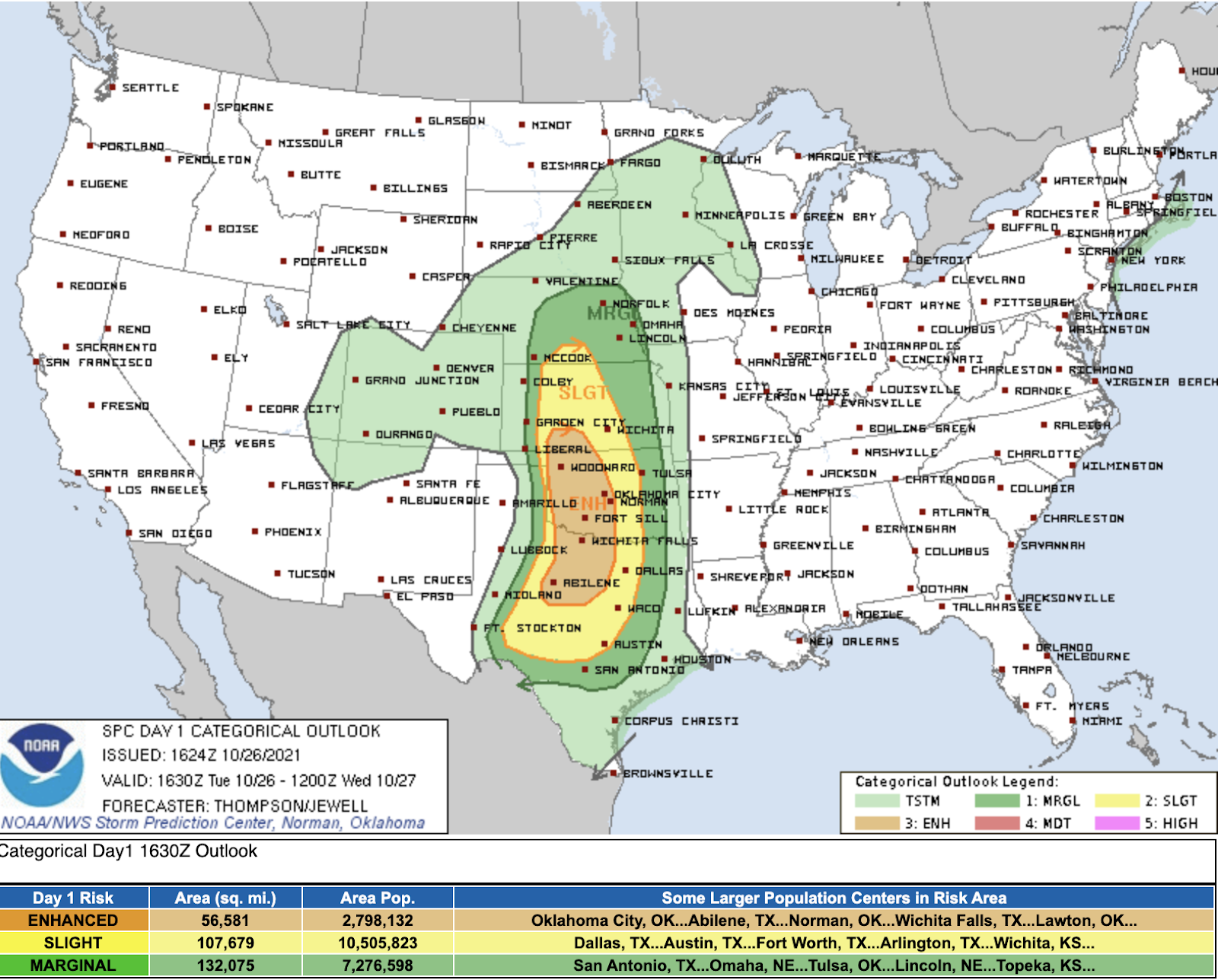 MyRadar
News
—
Late October Severe Weather - Second Season Cranking
10/27/2021
Most people associate severe thunderstorms and their winds, hail and tornadoes, with spring. But severe storms can happen anywhere, at any time of the year. In fact, one of the first severe events of 2021 happened on March 10th, with wall clouds appearing over frozen lakes and snow in Minnesota.
Climatologically, the spring months (April, May, June) are the peak for severe weather. With a second season peaking in the autumn months, generally in October, as we transition from summer, to fall and soon to winter. Some autumns don't see any severe weather, passing right over into winter with winter storms and blizzards. Weather is dynamic and it all just depends on what kind of pattern sets up that season.
This autumn has been very active compared to the average season. In fact, as a storm chaser, I have not had a robust severe weather chase in autumn since 2017 when I intercepted a tornado near Indiahoma, Oklahoma. So far this autumn we've seen multiple days of severe weather, across different portions of the USA.
On October 10th and 12th, I chased severe weather in Oklahoma and Kansas. Both days brought tornadic weather to the region, with multiple tornado reports, wind damage, and large hail. Just a few days ago another system developed across the center of the USA, bringing with it severe weather and multiple tornadoes to portions of Missouri and even into Illinois during the overnight hours. And that brings us to October 26th, today. As I sit here in Altus, Oklahoma, sipping coffee and perusing the weather models, writing to you all with the thoughts of a storm chaser. A typical dryline May severe setup is developing just to my west.
Today, October 26th looks to be a potent day for severe weather. A severe weather setup that one would see chasing storms in peak season. The Storm Prediction Center (SPC) has issued an Enhanced Risk (3 out of 5 on the risk scale) for western Oklahoma, into the eastern Texas panhandle. North into southwestern Kansas as well as to the south into north central Texas.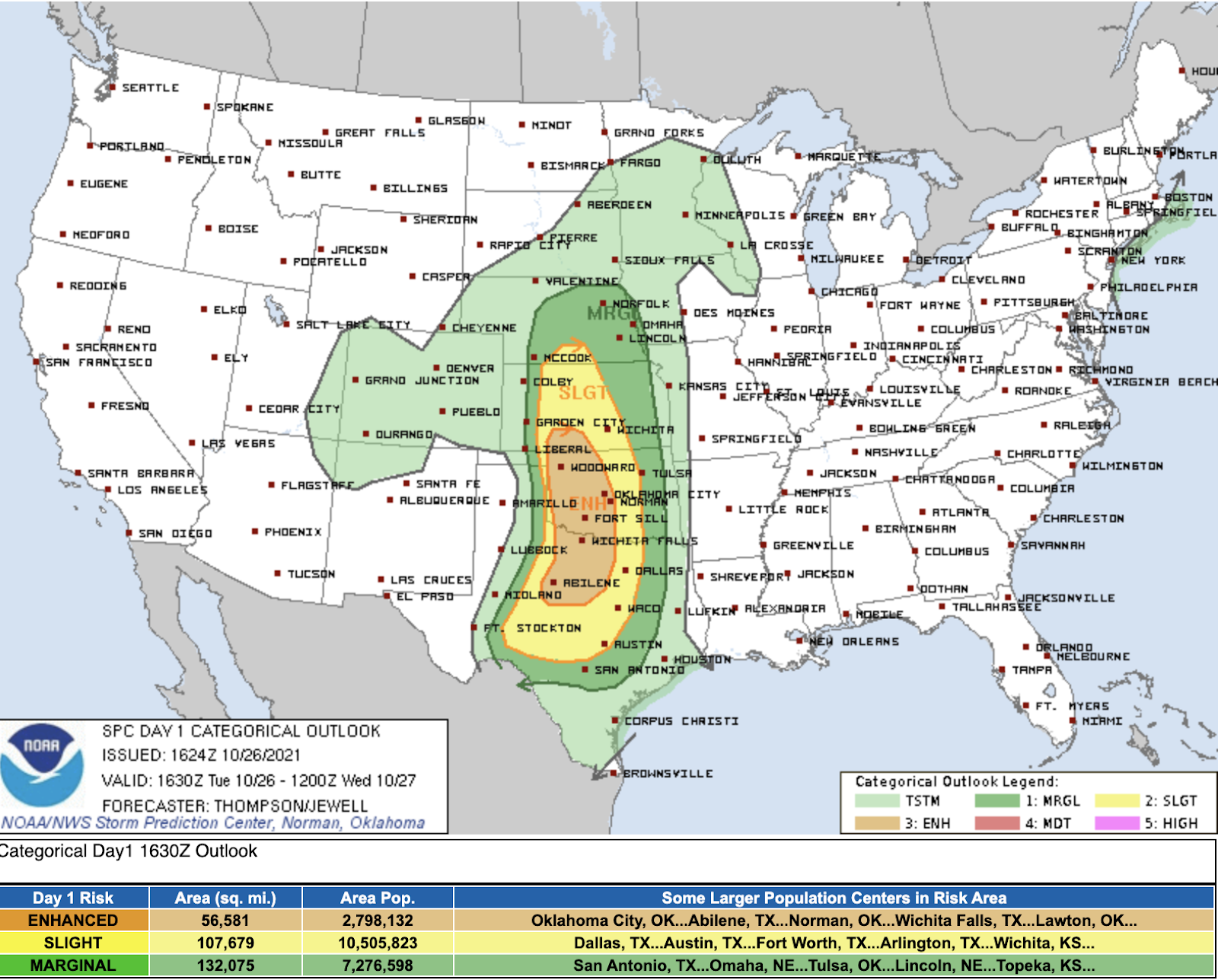 Severe weather is expected to erupt along the dryline; the separation area from dry air from the desert southwest, and warm moist gulf air surging northward, to the east. This stream of moisture, called the LLJ (Low Level Jet) is what brings one of the ingredients needed for severe weather to form - moisture. The other ingredients being shear, lift, and instability. All of which will be found along the dryline later this afternoon along the western periphery of the risk zone. As I sit here in Altus, Oklahoma writing to you all, the talk from the locals here in this coffee shop is centered around the weather. "It's supposed to be 91 degrees today." one lady says. Another says "yeah, it's supposed to get crazy crazy weather tonight" in response. Oklahomans are all too familiar with severe weather. Oklahomans are generally weather aware.
My goal out here as a storm chaser is multi pronged. First and foremost I am ground truth to forecasters and broadcasters on what's happening in the field. Radar cannot see what is happening just above the surface and that's where I come into play. My reports warn the public via social media, and through the MyRadar app. Secondly, I am out here to document weather history; to experience and capture the beauty that weather can create. With the hope to inspire others to also see the beauty in nature, but also letting people know just how dangerous weather can be.
My plan today is to target the western Oklahoma and eastern Texas panhandle region. I will be observing models through the day, trying to determine where and when I think storms will initiate on the dryline. Today's event will be mostly nocturnal, as a line of storms races eastward through portions of Nebraska, Kansas, Oklahoma, and Texas late into the evening and early morning hours of Wednesday, Oct. 27. Looking at the HRRR, one possible scenario the models are painting right now is for a severe line of storms to go through the Oklahoma City metro area around midnight or just after midnight, later tonight.
Below we see the NAM3km model, also showing a similar outcome. Early in the event (around sunset or earlier) storms fire in northwestern Oklahoma which then race off to the northeast into Kansas. An hour or two later, additional storms fire along the Oklahoma and Texas border, south of my current location in Altus, OK. These storms then grow into a line of storms as they move east toward Oklahoma City.
My coffee is running low now, so it's almost time to get back on the road and start honing in on where to start my chase today. First however, I plan to make a visit to a desolate road near Mangum, OK where I intercepted a tornado during a High Risk severe event on May 20, 2019. I love exploring the open roads and plains in the center of the United States. It's a blissful place for me. I've crisscrossed these roads in the plains many times, but there's always a new little town to explore and see. Surfing the winds of the Great Plains in pursuit of mother nature's baddest storms brings that unique opportunity to explore places you likely otherwise would never have visited. It's adventurous, and romantic, but takes a lot of grit to continuously track down mother nature's greatest shows on earth.
Stay safe, and make sure you have those alerts turned on in the MyRadar weather app so you are aware when severe weather makes its inevitable way to your neighborhood.
Storm Chaser Aaron Jayjack