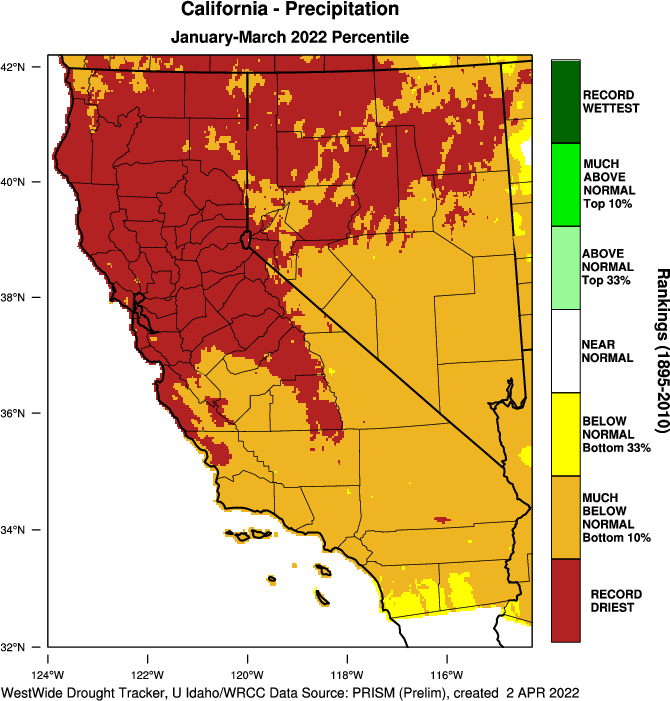 MyRadar
News
—
Precipitation Whiplash Battering California
4/3/2022
California has gone through wild swings in precipitation from record wet to record dry just in the last six months. This phenomenon of abrupt transition from record wet to record dry or vice versa is called "precipitation whiplash." And according to a recent study by climate scientist Daniel Swain and colleagues, "precipitation whiplash" is expected to increase in the future with climate change.
Water year 2022 began last October with the state reeling from another summer of severe wildfires and extreme drought across the state. Recent autumns have been bone dry in California, but October 2021 proved to be the polar opposite as multiple rounds of storms slammed the state. The most notable of these storms was an extreme Category 5 atmospheric river, nicknamed "Bombtober" that slammed the state a week before Halloween delivering record rainfall to Northern California. The state capital Sacramento recorded its single wettest day in its history recording a whopping 5.41 inches of rain. Additionally, the storm was rated a 9.7 out of 10 on meteorologist Jan Null's Bay Area Storm Index making it the third strongest storm on record to hit the Bay Area since 1950. By the time October 2021 was up, it was officially the 4th wettest October on record (since 1895) in California.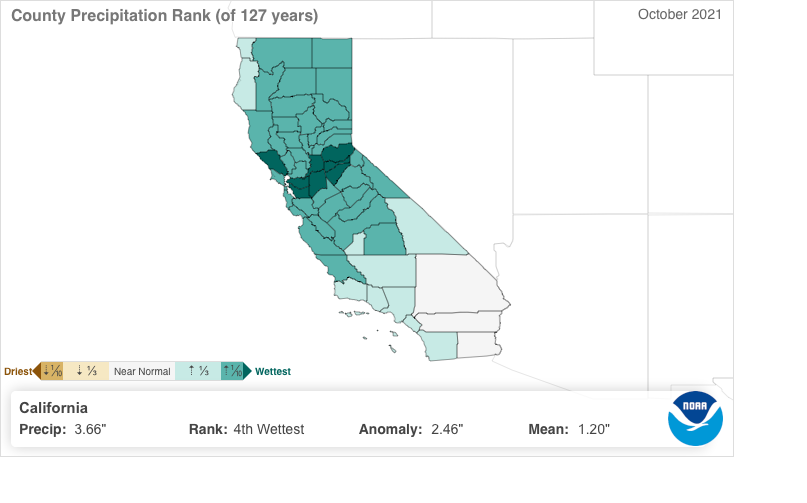 California County Precipitation Rank October 2021. Image Credit: NOAA National Centers for Environmental information
But, then November transitioned back to extreme dry as persistent high pressure near California drove the storm track well north into the Pacific Northwest. During the entire month of November Southern California saw zero precipitation making it the driest November on record since 1895. Northern California saw a couple of weak storms break through the high pressure, but nothing compared to October.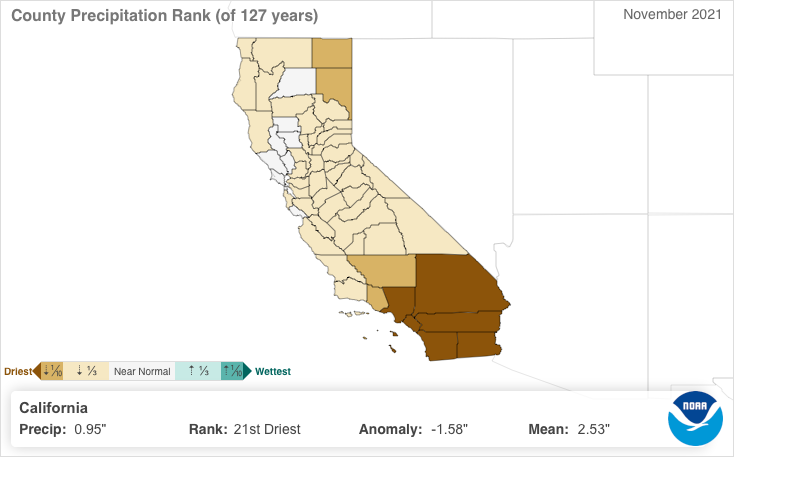 California County Precipitation Rank November 2021. Image Credit: NOAA National Centers for Environmental information
December rolled around and the state experienced another shift from extremely dry to extremely wet. From mid-December, the state was pounded by a parade of colder storms and atmospheric rivers. Snow totals in the Sierra Nevada in December were truly remarkable with the Central Sierra Snow Lab near Donner Summit recording 214 inches of snow or nearly 18 feet. Down in Southern California, Los Angeles County recorded its third wettest December on record just after experiencing its driest November on record. By late December much of the state was already closing in on its average yearly rainfall even before historically the three wettest months of the year (Jan, Feb, Mar). But, no one knew the unprecedented dryness California would face in the next 3 months.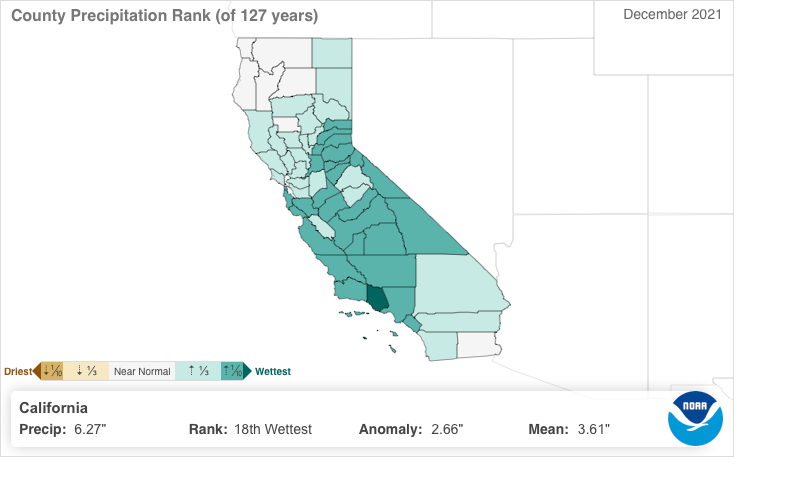 California County Precipitation Rank December 2021. Image Credit: NOAA National Centers for Environmental information
In January the pendulum swung back to record dryness and it has yet to swing back the other way. The lack of precipitation California has seen since the new year began is simply unprecedented in our recorded history. For example, in the Northern Sierra Nevada, the wettest area which averages nearly 100 inches of rain a year has experienced 4 feet less precipitation than normal and has experienced less than 10% of normal precipitation.
Precipitation Anomaly Since January 1 of California. Image Credit: Climate Toolbox
Statewide in California January-March 2022 has been by far the driest January-March period since records began in 1895, nearly 130 years ago. Just 1.66" of precipitation has been recorded on average statewide since the new year began. That's ~7X less than the mean precipitation for January-March in the 20th Century and ~2X less precipitation than the second driest January-March period which occurred in 2013.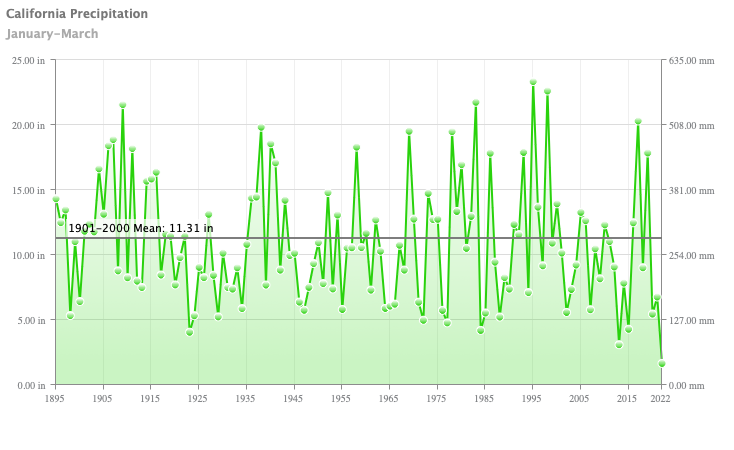 Graph of January-March Precipitation in California from 1895-2022. Image Credit: NOAA National Centers for Environmental information
Water Year 2022 has been a year of extreme precipitation shifts and a prime example of "precipitation whiplash" fueled by climate change. From record dry in October to record dry in November, then back to record wet in December before shifting to 3 months of unbelievable dryness. By January 1 it was almost impossible that California would not see at least normal precipitation for the year, but as it stands today California will see a third consecutive year of below-average precipitation.

Map Showing Odds of Reaching 100% of Water Year Normal Precipitation across the West. Image Credit: Center for Western Weather and Water Extremes
The past six months in California have been a small window into the future of extreme precipitation events and climate extremes in the state.