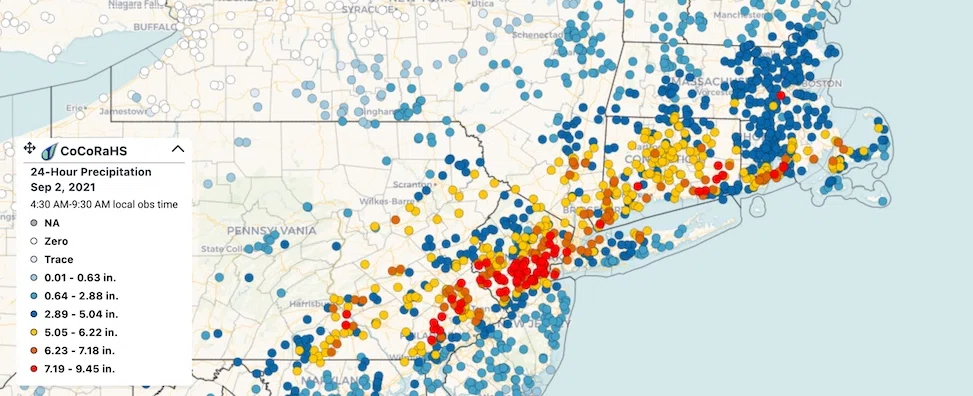 MyRadar
News
—
Flooding in the Northeast: Which Regions Are Most At Risk
by Will Cano | News Contributor
8/9/2022
Hurricane Nicole made landfall as a Category 1 hurricane in Florida earlier this week in
2022 has been a year to remember in terms of flooding.
Beginning in late July, a string of extreme flood events have struck across various locations in the US, and at record levels. First, the St. Louis area was pounded on July 25th-26th. Next, Eastern Kentucky was dealt fifteen-plus inches of rain over five days, killing at least 39 people. Next, southern Illinois was struck on August 2nd. And most recently, Death Valley received 2/3 of their yearly rainfall in just a few hours.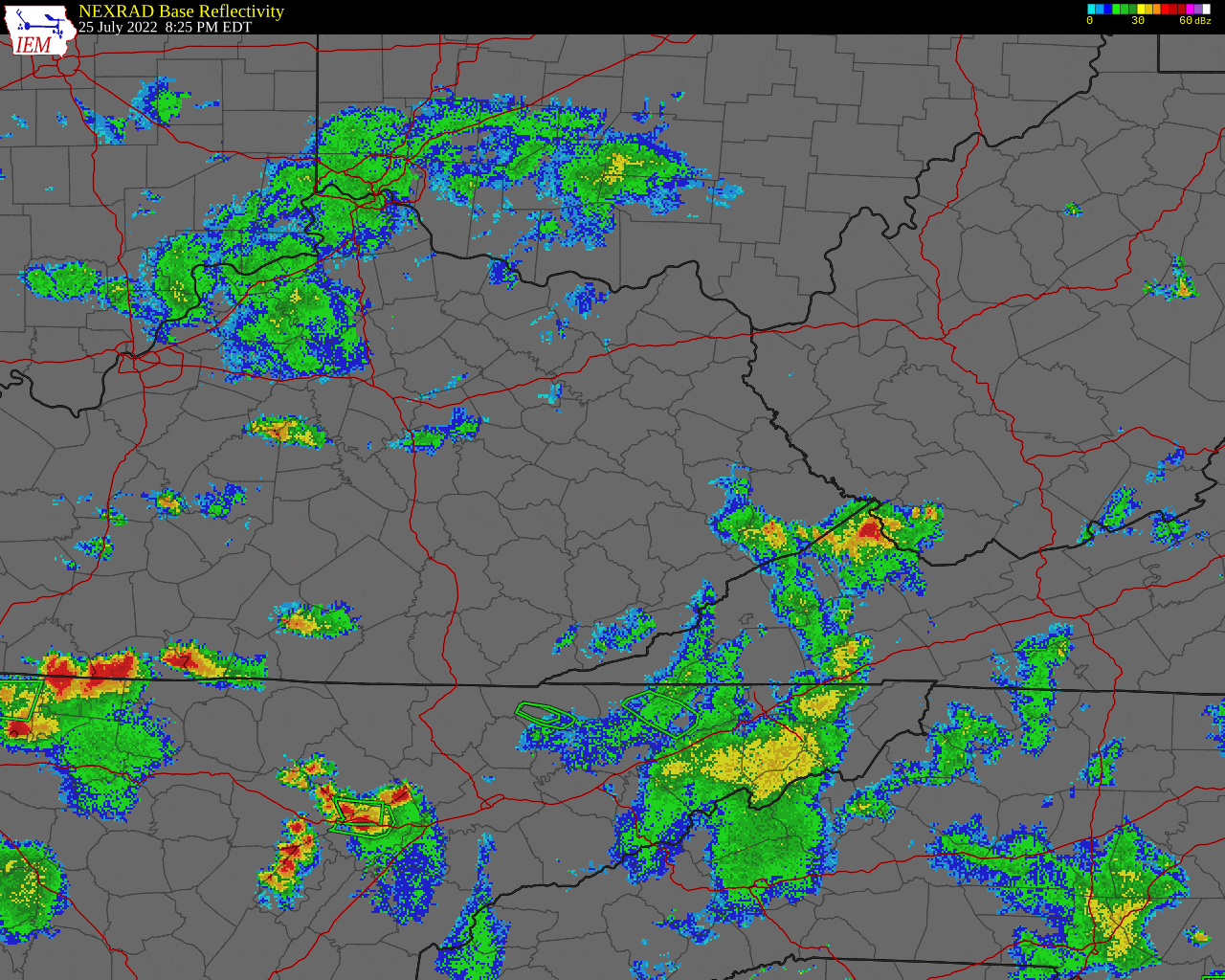 St Louis on July 25-26, Eastern Kentucky on July 28, Southern Illinois on August 2 and now Death Valley on August 5th.

That's four 1-in-1,000 year rain events in 11 days.

— Colin McCarthy (@US_Stormwatch) August 9, 2022
These separate but sequential flash flooding events have demonstrated that no where in the country is safe from a flooding event, even the country's driest desert.
So, what about the regions that have been recently spared, such as the Northeast? There are determining factors to show which regions are at the greatest risks, and just what type of flooding they may be in store for.
The Northeast is full of water. Whether is be the Atlantic Ocean to the east, the Great Lakes to the west, or every river, tributary, and lake between, the region's temperate climate is conducive for frequent bodies of water. This means that the risks for flooding are far and wide, and can come from a multitude of directions.
First, Coastal Flooding is a significant risk for many major Northeast cities along the East Coach. The Atlantic Ocean is the culprit for this risk, but it is amplified by the many bays, rivers, and deltas that branch off from the main sea.
For example, Philadelphia is a major northeast city that is at risk for significant flooding. Although the city is bordered from the Atlantic Ocean by New Jersey, the Delaware River runs directly to the east of the and provides the Atlantic Ocean an extending arm to reach the city.
Some cities, however, lie in the direct path of the Atlantic Ocean. The greatest example: New York City.
The entire region surrounding New York City is at an elevated Coastal Flood risk due to its proximity to the Atlantic Ocean. Some counties, however, are not nearly as well equipped for a coastal flooding event than others.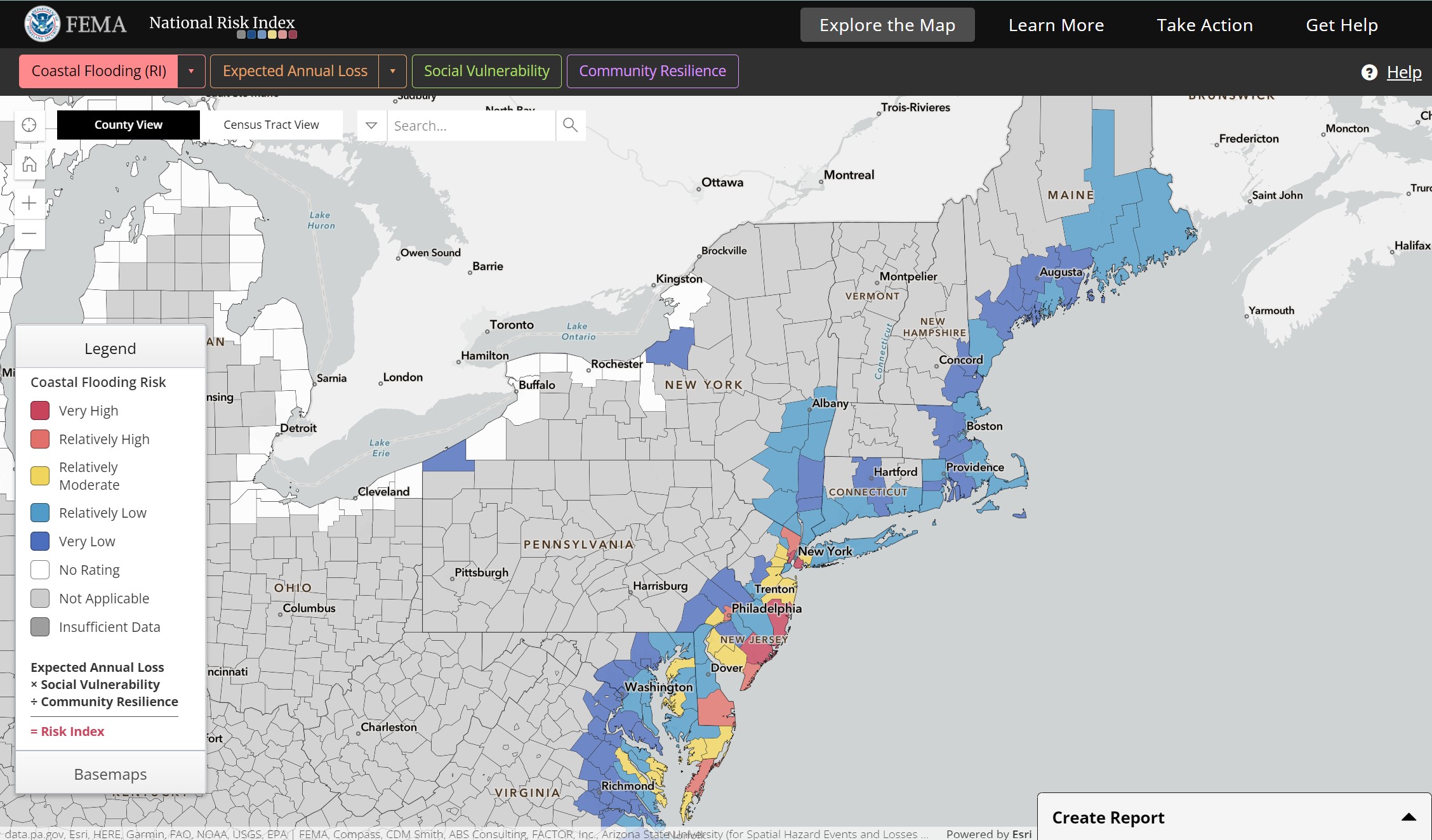 Both Hudson and Kings county are at very susceptible to the impacts of a Coastal Flooding event. In fact, they are in the top 1 percentile of the Country for counties at the greatest risk of a Coastal Flood. Bergen County lies as the next greatest risk in the NYC area, followed by Queens, Essex, and Union counties.
However, cities are not the only risk zones for coastal Flooding in the Northeast. Many popular tourists attractions across the East Coast have some of the worst Coastal Flooding risks across the country. Popular beach downs such as Bethany Beach, Cape May, and Atlantic City are at high risks of Coastal Flooding. Ocean City, New Jersey has the greatest coastal flooding risk in the country; an even greater risk than Miami-Dade County.
Coastal Flooding in the Northeast normally results from one of two forms. First, hurricanes or weaker tropical systems. Whether these are just brushing by the coast or making landfall, storm surge causes Atlantic seawater to follow a counter-clockwise direction into the East Coast.
Second are strong low-pressure systems, most notably Nor'easters. These prominent fall and winter storms are notorious for tracking along the northern half of the east coast. Their northeastern winds - hence the name - push water and wind into coastlines, especially areas such as Boston and Cape Cod.
The most memorable coastal flooding event in recent history came from Superstorm Sandy in 2012.......
Coastal Flooding is not the only risk of flooding in the Northeast, and may not even be the worst. Flash Flooding poses a completely separate but equally serious flood threat.
Flash Flooding is defined as a flood caused by heavy or excessive rainfall in a short period of time, generally less than 6 hours, according to the National Weather Service. This is usually caused by 'training' thunderstorms, where heavy rain continually impacts a small area for extended periods of time.
Flash Flooding can strike anywhere, and makes itself present by turning relatively dry areas into raging rivers.
This is especially true for cities, because asphalt streets with cement curbs can become raceways for water, increasing its speed and moving it in a unilateral direction. In addition, the cement foundation of urban areas prevents water from naturally seeping into the ground. Finally, successive rainfall can overwhelm storm drains, leaving nowhere for water to go but down the street.
This was realized during Hurricane Ida in New York City in 2021. While there was no storm surge associated with the storm, strong and successive thunderstorms pounded the city for hours on end. After over 8 inches was recorded in less than half a day, the streets had become channels of water. The city issued its first Flash Flood Emergency in its history. The water had no where else to go, and poured into many basements and underground parking garages - the main culprit for many of the deaths on the city.


Cities, however, are not the only places where flash flooding can be exasperated. In fact, it's in the opposite of a bustling urban metropolis - mountainous regions.


Mountains are a primary factor in transforming heavy rain to catastrophic waves of water in unsuspecting towns. Rather than the mountains themselves, however, it is the valleys where the problems begin to arise.
In mountainous terrain, all the rain that falls cascades down the mountainside to the lowest point of land. These locations are usually where streams or rivers can be found because of this repeated phenomena every time that it rains.
Resultantly, this is where most towns or cities have been built upon for centuries. The land along these rivers was fertile for crops, along with providing fresh water and habitable climates.
Flash Flooding comes into play when heavy rain strikes in short time intervals and abundant amounts. In these occasions, the riverbanks are quickly overwhelmed and surpass their banks. By this point, most towns are already experiencing flooding.
The water can flow into a nearby city quickly, and can turn streets into flooded rivers.
Ellicott City is a prime example of this. The Patapsco River goes to the direct east of the city, forged by the hilly terrain around it. This is the primary reason why the city has experienced catastrophic flooding in the recent past.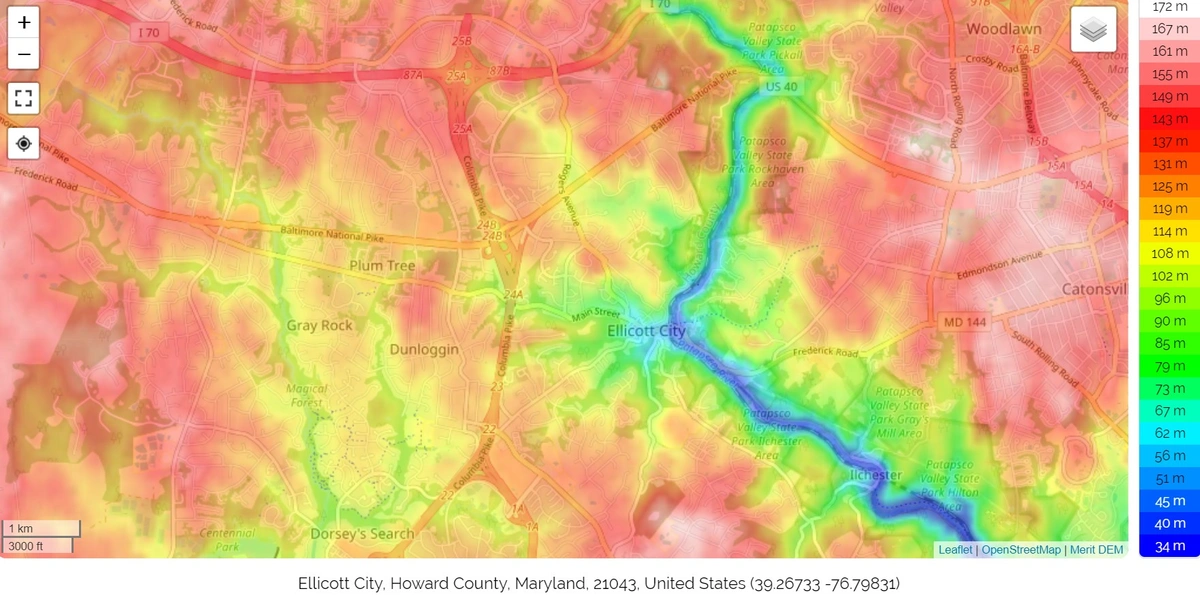 In both 2016, five inches of rain fell onto the city, but feet of water flowed down the streets as mountain runoff piled onto the streets. In 2018, even more rain fell, with a matter of 8.20 inches of rains in only two hours. Just as the 2016 flood damage was being repaired, the 2018 flood struck with even more ferocity.
https://www.weather.gov/lwx/EllicottCityFlood2016
https://www.weather.gov/lwx/EllicottCityFlood2018
Specifically,
Dallas shows how sudden, unlikely, and localized flooding can be. The area was drought stricken, which made the flood worse. This also meant that an area that had received
below average rainfall all summer now had its wettest august on record. In addition, while the east side of Dallas received 14 inches of rain, while McKinney received less than one inch.
Droughts make flooding less likely, but a whole lot worse when they strike.
https://weather.com/storms/severe/news/2022-08-02-kentucky-flash-flood-deadliest-since-1970s