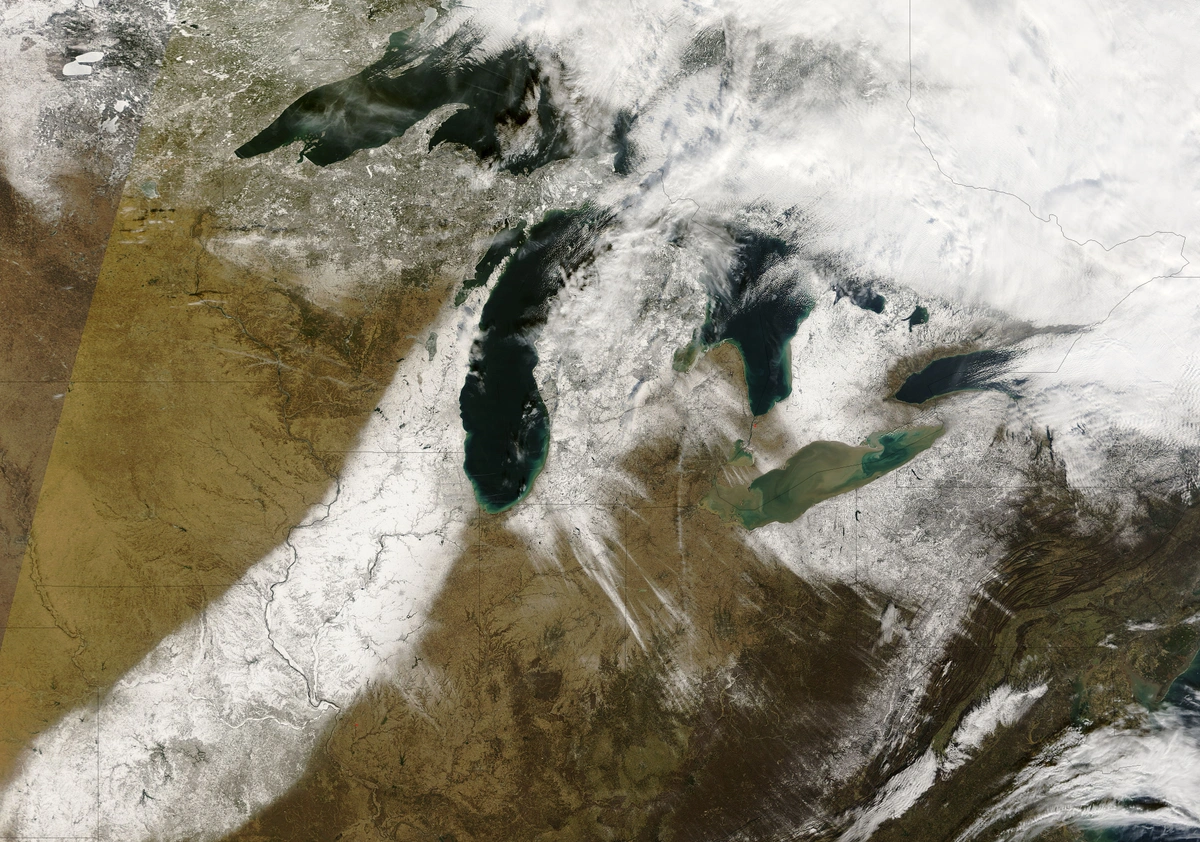 MyRadar
News
—
What is Lake Effect Snow? Why Buffalo is the Bullseye
by Will Cano | News Contributor
12/21/2022
For much of the United States, six inches of the snow is a significant amount to deal with. For Upstate New York, it is next to nothing.
But six feet? That got the attention of the region pretty quickly. Not only was 72 inches of snow measured just south of Buffalo on November 20th this year, but some locations cracked 80 inches of powder. A whopping 81.2 inches of snow was the maximum total measured in Hamburg, NY.
This was not a total observed over several weeks either. Rather, the brunt all fell in one day. 66 inches fell in Orchard Park, NY in 24 hours, breaking the New York State record by over a foot.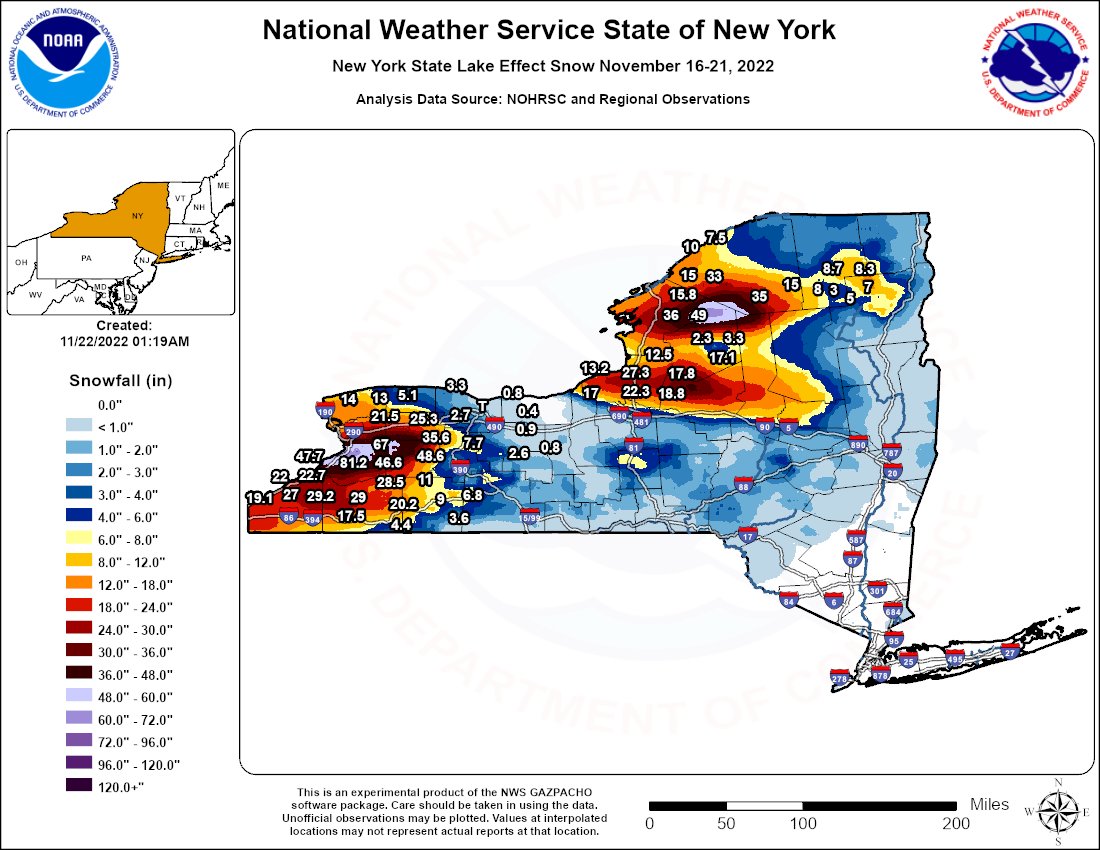 Observed snow totals from the lake effect snow system that struck Upstate New York in late November this year. Unlike large-scale snowstorms, small pockets of heavy snow are found instead of large swaths. Image Credit: NWS Buffalo
What was the cause of this snowmageddon? It's called lake effect snow, and its a phenomena especially unique in the Great Lakes Region. While this event was historic, it was by no means the only time mind-boggling snow totals have hit the region.
The science behind lake effect snow isn't terribly complicated. At its simplest, its just cold winds blowing over warm water.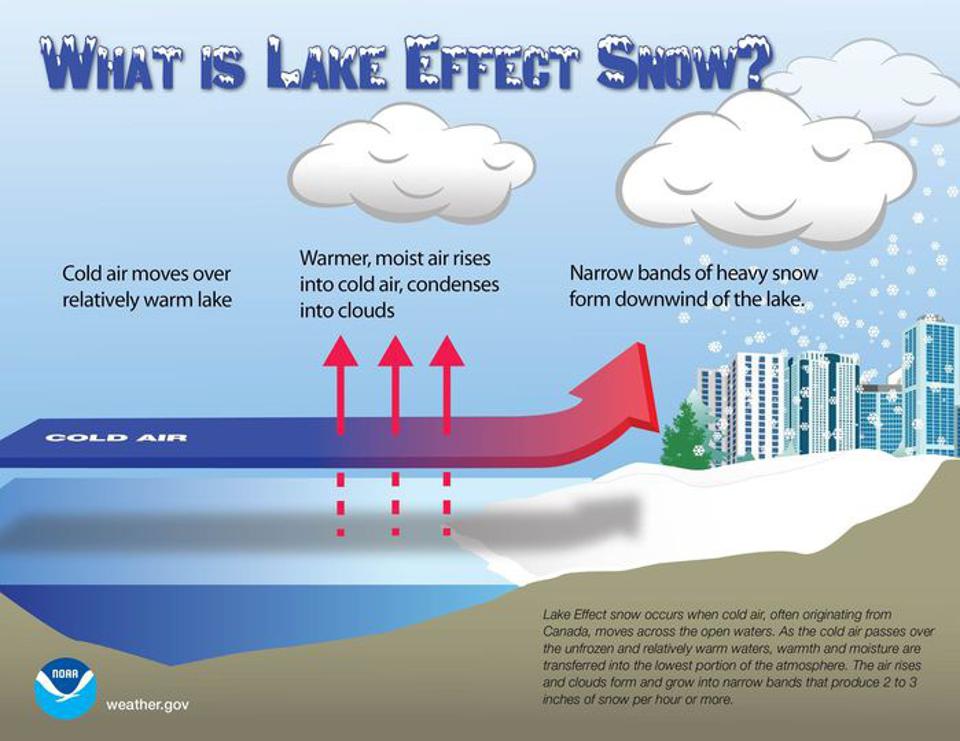 The relatively simple science behind spectacular lake effect snowstorms. Image Credit: NOAA
Each of the Great Lakes are large bodies of water that retain there temperature long periods of time, even when the weather changes. So, if the weather outside has been 20 degrees Fahrenheit for only two days, the lakes can still remain around 50 or 55 degrees for days on end if the new weather has just recently taken hold.
This temperature gradient is the main culprit for lake effect snow, and the reason why it is most common in the fall and early winter.
The first ingredient needed is cold air that moves over the Great Lakes. Most commonly, this movement is from the west or southwest, as artic air plunging from central Canada moves eastward over the Great Lakes. Next, evaporation occurs as the moist, warm water of the lakes is moved into the cold air of the atmosphere above. Condensation follows, and clouds bursting at the seams with moisture form. These clouds follow their eastward-projection and end up over land, when the inevitable occurs: snow bursts down from the sky.
❄️ne Bills Drive.#GoBills | #BillsMafia pic.twitter.com/DsMRPmxtul

— Buffalo Bills (@BuffaloBills) November 18, 2022
Images of snow on the ground in Orchard Park, NY on November 18th, 2022. The Buffalo Bills' home game on November 20th was moved to Detroit due to these dangerous snow amounts.
One factor that makes lake effect snow different than a classic snowstorm is it's duration. These snow bands created from lake effect snow are continually supplied with energy by the warm water of the lakes. If the atmospheric conditions stay right, a training band of snow can set up off of the lakes for hours, or even days, on end.
This is how ridiculous snow totals, such as the ones seen this November, occur.
Continuous radar imagery depicting the snow bands that set up in Upstate New York between November 16th and 20th, 2022. The 'hose' of snow from the lakes trained over the same areas because wind direction supported a continual flow of moisture. The first half of the video depicts the snow forming off of Lake Erie, while the second half shows snow from Lake Ontario.
These storms have so much power that they behave like a summer-time thunderstorm, just in the form of snow. This means that thundersnow is a common — and recorded — occurrence. With this recent event, snow fell at rates in five or even six inches per hour. Two distinct 'bullseyes' were found: one just east of Lake Eerie in Hamburg (81.2 inches) and another just east of Lake Ontario in Harrisville (55.5 inches).
In past lake effect events, the snow has reached even higher. The New York State record-heaviest snowfall came in at 141 inches in Redfield (50 miles north of Syracuse) on February 3-12, 2007. The culprit? Repeated series of lake effect snow bands.
Upstate New York is not the only place susceptible to lake effect snow. The other Great Lakes often produce lake effect snow in Western and Northern Michigan, Indiana, and Canada. When wind conditions change, Lake Eerie can bring heavy snow to Pennsylvania and Ohio instead of Upstate New York.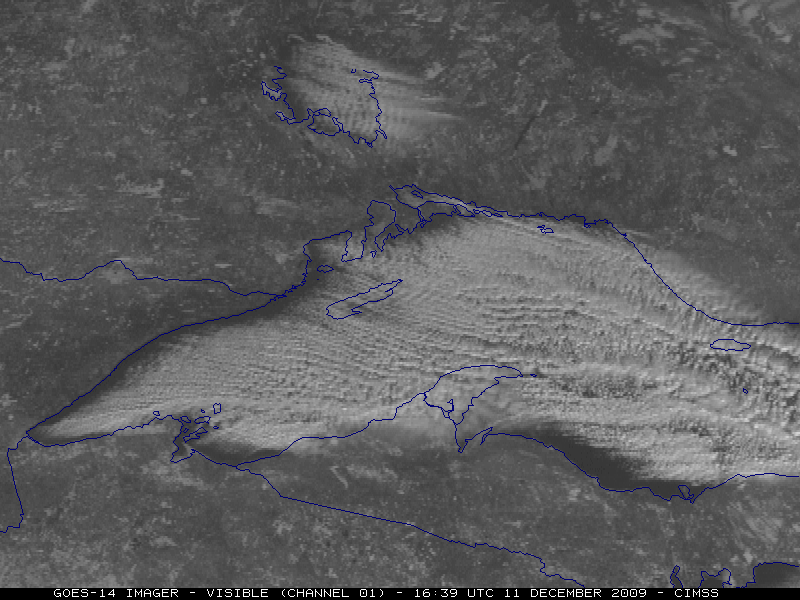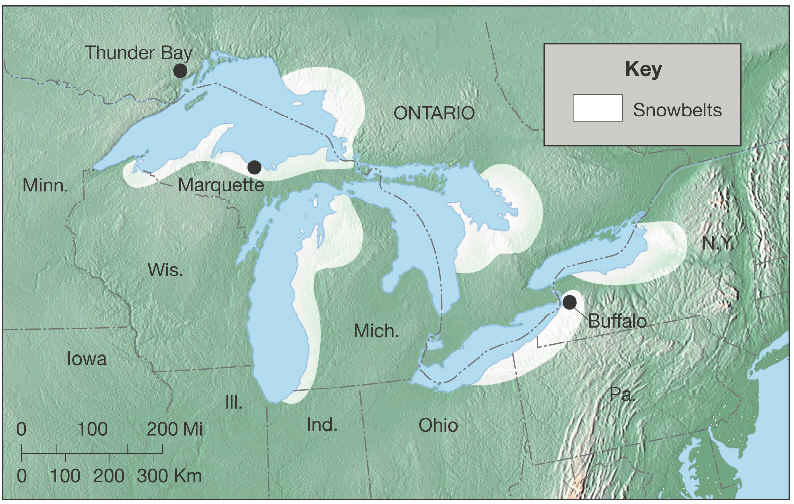 (Left) Satellite imagery snowing lake effect snow bands over Lake Superior and Northern Michigan. (Right) The different "snowbelts" that are most susceptible to lake effect snow by the Great Lakes. Image Credit: GLISA and SUNY Hunter College Dept. of Geography
In some cases, large "Great" lakes aren't needed to produce this phenomena. Lake effect snow has been observed off much smaller bodies of water such as Lake Tahoe, CA and Salt Lake, UT. On January 5th, 2016, 'Bay-Effect Snow' was seen on the Eastern Seaboard as northernly winds blew cold air over the Chesapeake Bay, bringing flakes to east Virginia.
These examples do not include all of the places in the world where this is possible. With the same science seen in Upstate New York, lake, bay, or even ocean-effect snow occurs in various locations around the world.
The process that creates "Lake Effect Snow", also creates "Ocean Effect Snow". Check out Cape Cod, MA earlier this morning. @NWSBoston #flwx pic.twitter.com/fnsU71boCj

— NWS Tampa Bay (@NWSTampaBay) January 8, 2017
Another example of snow being produced by different bodies of water, this one coming from the open ocean.
This week, a robust low pressure system will cut over the Great Lakes, bringing warm air northward and causing rain as far north as Maine. However, as the system passes, one of the strongest cold fronts of the year will wrap behind it, causing a flash freeze across the Northeast. This same cold air rushing over the Great Lakes will cause heavy and impactful lake effect snow in Michigan and Upstate New York.
So, it looks like a White Christmas in on deck for a region that's already gotten its fair share of powder.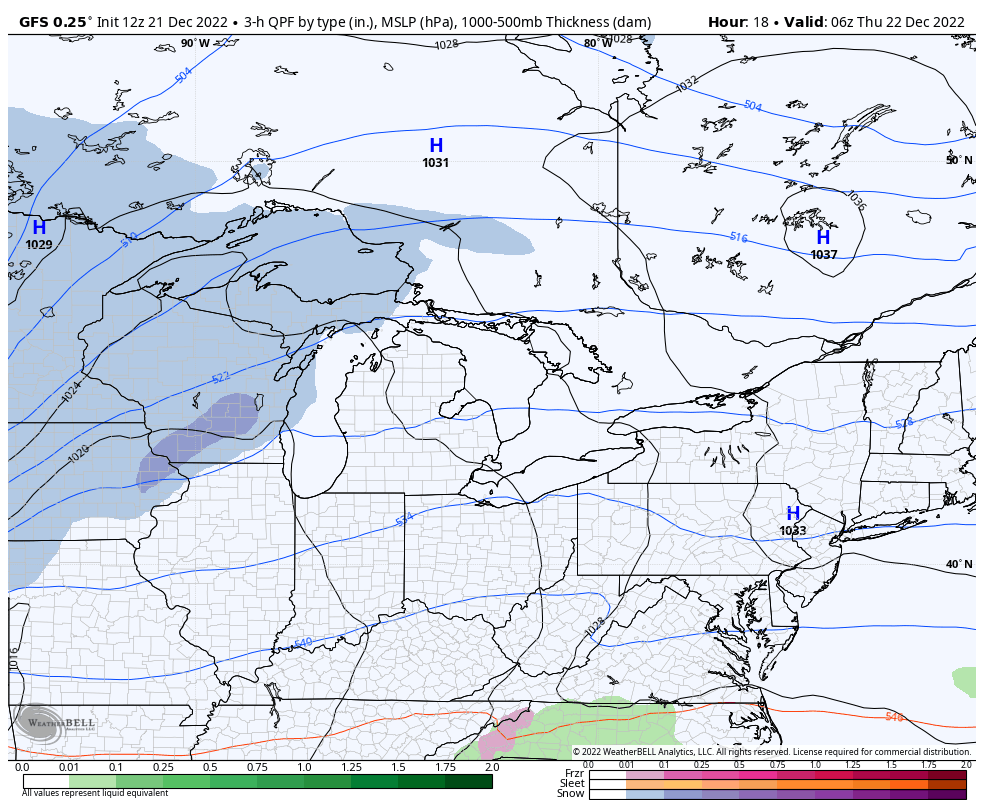 The American (GFS) Model forecasting the upcoming "Bomb" Cyclone in the days prior to Christmas and the lake effect snow that will linger afterward. Feet of snow are forecasted in some spots, with Winter Storm Warnings already in effect. Image Credit: Weatherbell