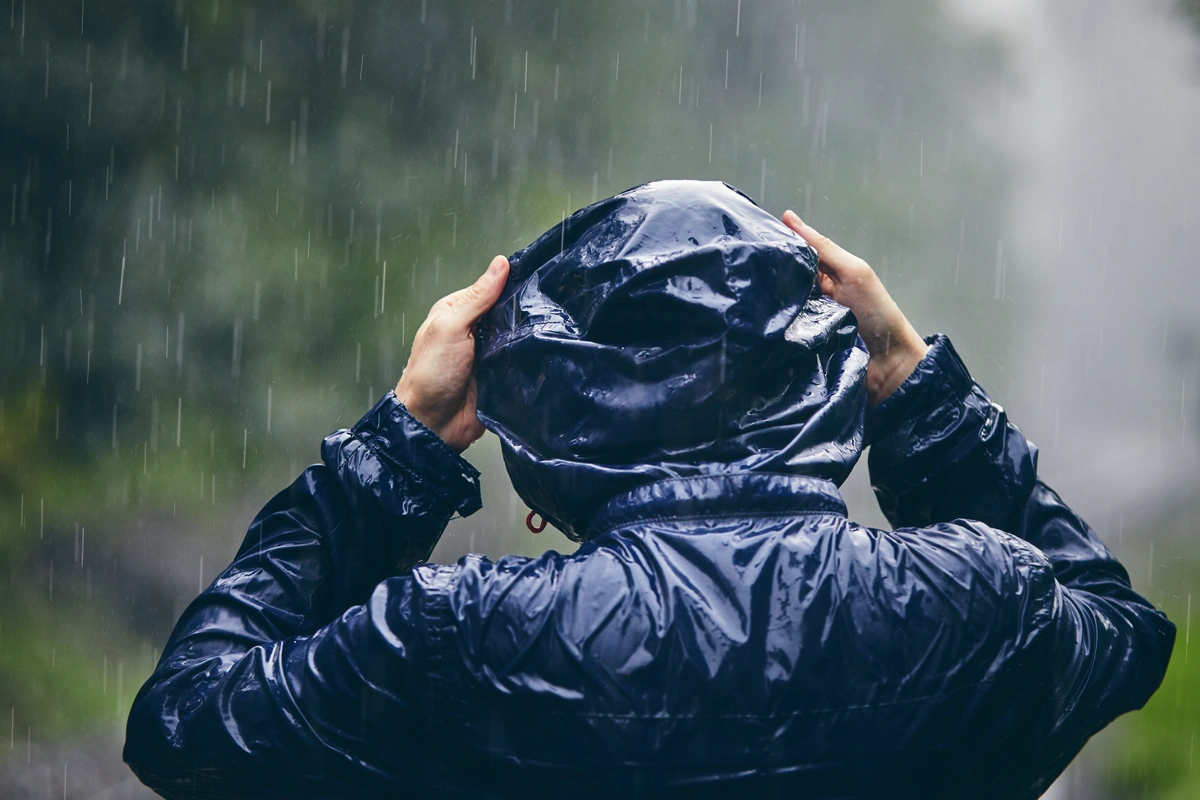 MyRadar
News
—
Atmospheric Rivers Responsible for 24 Trillion Gallons of Rain Make A Comeback In California
1/17/2023
We are keeping a close eye on the West Coast today as another storm system pushes onshore. This system will push east across the Intermountain West through the weekend with rounds of heavy rain and heavy snow from the coast to the Rockies

🛰️ Imagery: GOES-West pic.twitter.com/qVtWGVwq7n

— NWS Weather Prediction Center (@NWSWPC) January 14, 2023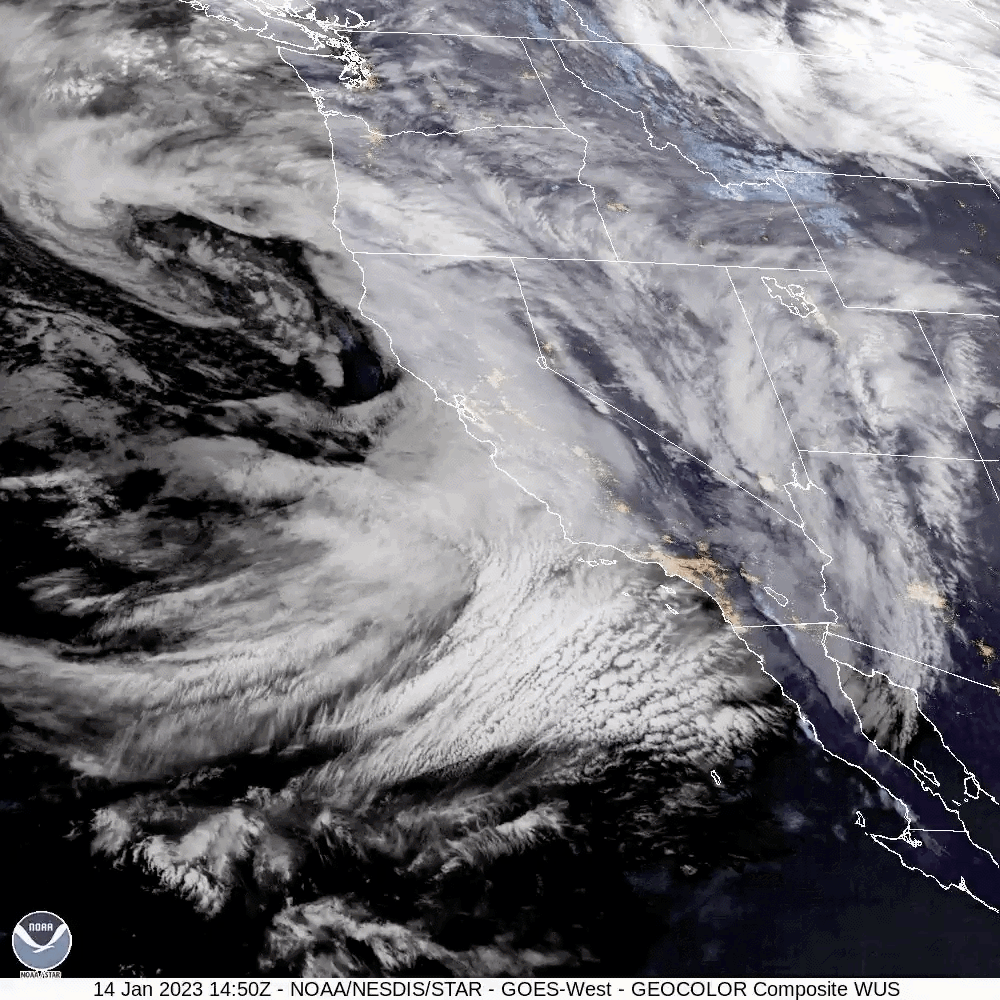 Atmospheric River Approaches the West Coast, January 14, 2023. Source: GOES-West
After torrential rainfall over the last couple of days, exceptional drought conditions have been completely wiped out in the state of California. A corridor of moisture in the sky, known as atmospheric rivers, has brought significant rainfall to the U.S. west coast, with flash flooding resulting in at least 19 casualties as of Saturday. According to the National Weather Service, the storm is one of the most impressive in nearly 20 years.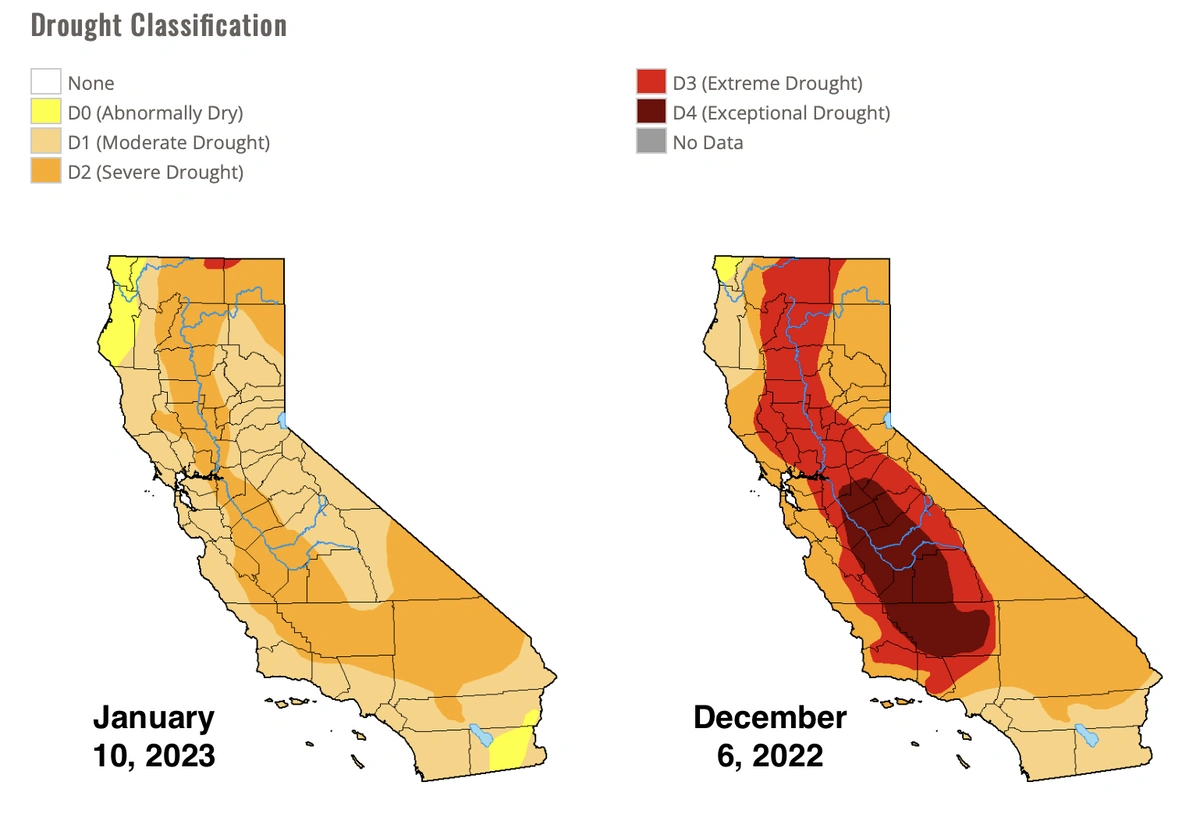 U.S. Drought Monitor for the State of California in December (right) and January (left). Source: USDA
What Are Atmospheric Rivers?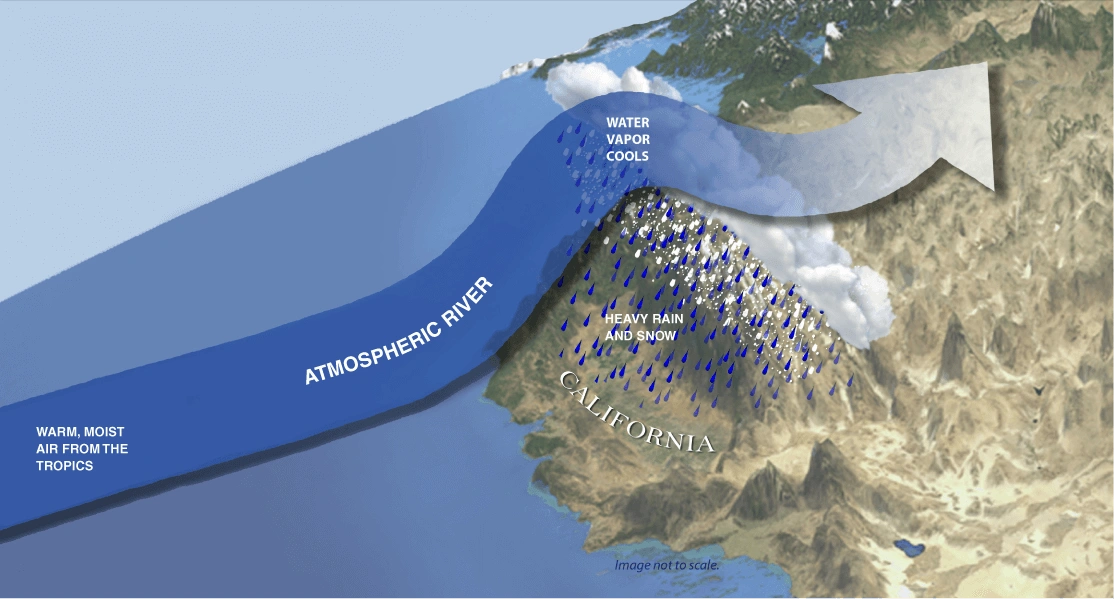 How Atmospheric Rivers Form. Credit: NOAA
Much like a river moving over land, atmospheric rivers are streams of water vapor traveling through the sky. Usually in tropical regions, warm, moist air rises and travels through atmospheric currents across the ocean. When atmospheric rivers move over land and rise farther into the atmosphere, they can cause heavy rain and snow over land. On average, about 30 to 50 percent of annual precipitation in the west coast states can be attributed to atmospheric rivers.
Impacts Continue in California
A series of several atmospheric rivers have produced about 24 trillion gallons of water in California since late December. Continued, intense rainfall has resulted in flash floods, mudslides, evacuations, and power outages throughout the entire state. As of Saturday, poweroutage.us has reported over 22,000 power outages statewide in California.
Looking at the upcoming week, more rain is expected throughout the state. With the same drought-stricken areas receiving rainfall, the following rain events can result in more significant flooding events, as the ground is already saturated from previous storms. After approving an emergency declaration, President Biden is expected to sign a major disaster declaration for the state that will open more essential resources and aid for California.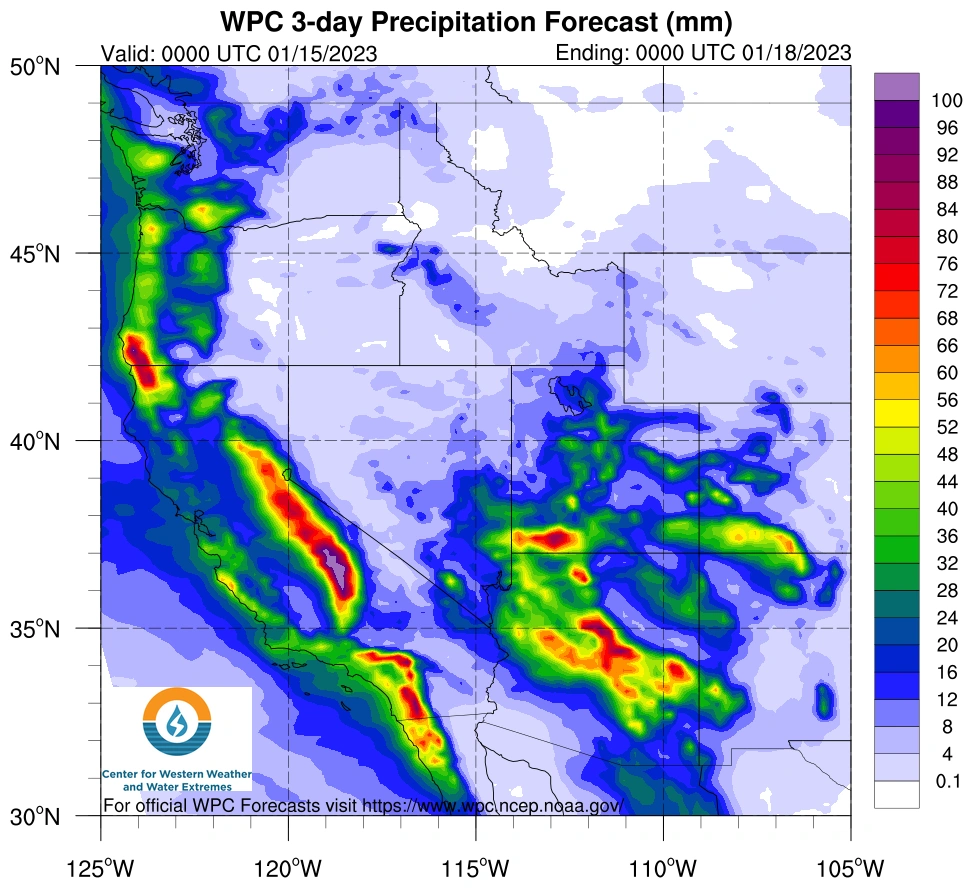 Forecast for Upcoming Rain in the Next 3 Days. Source: NWS Weather Prediction Center
A First Glimpse at the Damage
Users on Twitter are reporting damage across California. From floods to road closures to even tornadoes, check out significant impacts:

Highway 101 completely covered by the Ventura River in Ventura! #cawx #flooding #atmosphericriver pic.twitter.com/kebqWQQ0Os

— Benjamin Jurkovich (@BenJurkovichWX) January 10, 2023
TORNADO WARNING for Stockton, #California.

SEVETE THUNDERSTORM WARNING for Sacramento.

Critical weather situation. If in the tornado warning, seek shelter NOW. #tornado @MyRadarWX pic.twitter.com/HDGb9vKOYN

— Matthew Cappucci (@MatthewCappucci) January 10, 2023
The Santa Cruz County coastline has taken a serious beating from the most recent atmospheric river. Large waves paired with hide tide have created a mess in Capitola, washing away part of the wharf and damaging businesses. https://t.co/w0jbVz55tn#cawx #storm pic.twitter.com/kDq08aICQo

— ABC7 News (@abc7newsbayarea) January 5, 2023
❄️INSANE SNOW OUT WEST❄️#SierraNevada's running nearly 200% of average for the season and hitting 10+ year highs in snowpack. Current #AtmosphericRiver event today and a series of storms lined up = another 50-60" on the way! #Californiastorm pic.twitter.com/g06LWSPEIg

— Convenience Store News. (@CStoreNews_) January 13, 2023
The trees down in Sacramento aren't little flimsy things — they're stout 18-24" wide healthy trees.

With gusts having been clocked as high as 72 mph (thanks @BrandonRector), it comes as no surprise.

We're working on a piece for @MyRadarWX that will explain atmospheric rivers. pic.twitter.com/NQqbBtXLAM

— Matthew Cappucci (@MatthewCappucci) January 10, 2023
California State Route 33 in Ventura County has suffered mudslides and substantial damage because of recent storms.

Be cautious and pay attention to road conditions and closures.

Visit https://t.co/KRVXFeZKpL to check road conditions.pic.twitter.com/aejq4lXear

— Office of the Governor of California (@CAgovernor) January 13, 2023